An Illustrated Guide to The Lunch Lady
Introducing the only lunch lady in the world with a definite article attached to her name. Nguyen Thi Thanh is

THE

Lunch Lady of Saigon.
Under the endorsement of Mark Weins, the incisive food-travel blogger behind Migrationology, Tim and I set course to find Saigon's famed Lunch Lady. In 2009, Nguyen Thi Thanh, an ordinary Saigonese noodle vendor tucked away in the northern recesses of District 1 was visited by a gentleman named Anthony Bourdain, who put her tiny stall in the international spotlight. After the Vietnam episode on 'No Reservations' aired, this neighborhood haunt skyrocketed in popularity. Today, the tiny blue plastic chairs are filled with local business-folk on their lunch breaks and sunburnt tourists waiting to dive into a broth of soup that Bourdain raved "…is the broth that the gods would have suckled on."
Looking for more Saigon Street Food? Read my guide to Street Food in Saigon.
When reaching our destination, we realized that we had driven down the same alleyway only a few nights before under the misdirection of Google Maps. It felt like we were destined to eat at this stall and not at the behest of trendy food gurus! It was hard to find at first since the yellow and red marquee pictured in almost every blog post was nowhere to be found. She now shares the same blue and white banner as her neighbors, which looks like a standard business regulation around the block.
What really lured me to this specific food stall was not the Bourdain stamp-of-approval, but the daily rotation of her noodle dishes. Now that was the real draw for me since in Saigon, a rotating menu is very atypical due to the high cost of ingredients. Street food menus tend to be minimal, no more than four dishes at most. It's really a benefit to the eater since one hopes the vendor has perfected the offerings of his/her limited menu. However, The Lunch Lady's "Soup of the Day" concept is a way to ensure her customers don't get bored. For a streetside operation, there are plenty of tables sprawling across more than one block. We were seated under the shade and the breeze was nice that day which is imperative when going out for lunchtime noodles to stay cool.
*EDIT: I've been pointed out that the information regarding the price differentiation was a misunderstanding on my part. Thank you to the reader who wanted to prevent false impressions from forming due to my lack of sensibility. I apologize for circulating a shady opinion about this place and I feel greatly negligent for not asking more questions first.


The bowls are priced accordingly: 30,000VND (normal) and 40,000VND (special). They will serve most people the 40,000 bowl but just ask for the 30,000 bowl if you're on a budget. The price difference stems from the amount of meat included in the dish. For example, a bowl of Bún Thái has two shrimps instead of one. Also, just a heads up on the local culture, nothing is complimentary in Saigon. You will have to pay for iced tea, wet napkins, and parking… so please don't assume the fresh spring rolls being brought to your table will not be tacked unto the bill. It's on you if you eat them. Don't pull the ignorance card!



"Like all truly great soups, it soon becomes center of the universe. You pass through an event horizon of pleasure, moments ticked off in mouthfuls, everything else ceases to exist."- Anthony Bourdain
Only one dish is prepared per day and Mondays happen to be Bun Thai day. Bun Thai is a Thai-Vietnamese soup that includes bun (pronounced 'boon'), a thicker version of rice vermicelli with the same girth as spaghetti and a tangy, spicy broth, something I would liken to a sweeter version of tom yam goong. What makes this not-so-Thai is the absence of that spicy gut punch. It's a much tamer broth. This is a surf-and-turf soup, with sliced squid rings, meaty shrimp, and the item that stole the show: the semi-rare slivers of beef that cook in the hot broth. People come here for the broth specifically so don't alter the taste of the stock by adding chili or hoisin sauce. Taste the broth in its original glory before you amp up the flavor. A squirt of lime was all I needed. What I love about Vietnamese food are the garnishes. For our meal, we were given snips of morning glory and shredded banana blossoms. Both are very mild in flavor which means they're more for texture than anything else. Seeing the morning glory was a big treat and its crunchiness enhanced the meal.
And to spoil the surprise a bit, here's a comprehensive guide to what's on the menu Monday through Sunday 🍴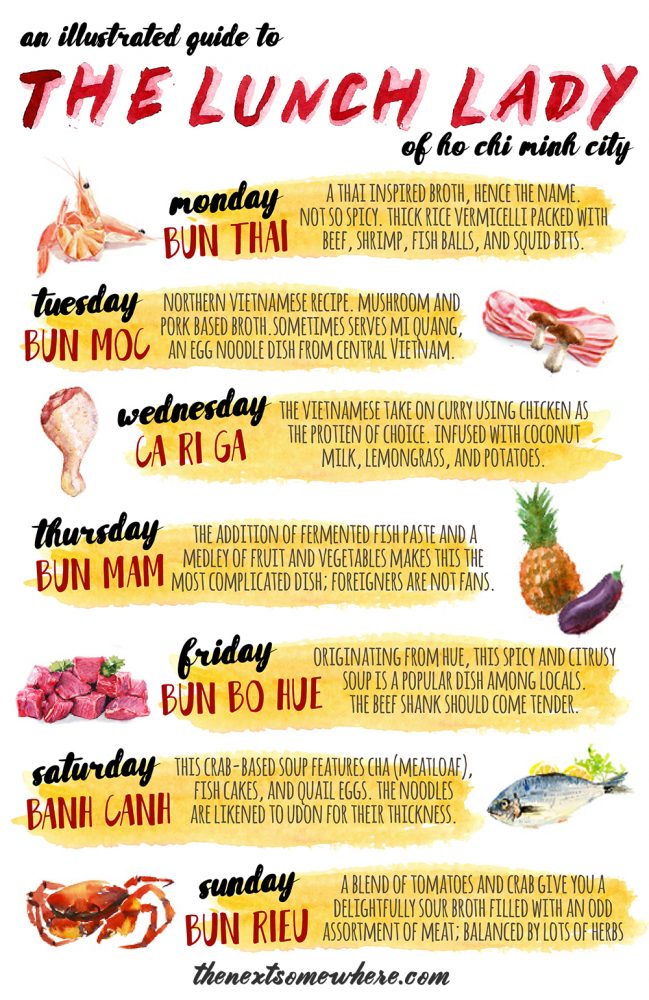 UPDATE: For Tuesdays and Wednesdays, she has 3-4 different dishes and it changes weekly. On Tuesdays, there's also a mushroom noodle soup, mi quang (yellow rice noodles), something like hu tieu (Cambodian-style noodles) but with a lot more meat and on Wednesdays, she offers bun thit nuong (rice noodles with grilled pork and fried egg rolls) .

The bowl of noodles felt endless and by the time we finished, we were perspiring like crazy. Before making a quick escape (from the heat, not the noodles!) I had to see The Lunch Lady in action. She was on that lunchtime grind and I didn't want to disrupt the kitchen flow. I quickly stole a picture of her rocking her wildly printed pajama pantsuit and she returned a gracious smile (not captured on film.)
My final verdict on The Lunch Lady
Good, but not THAT good. I think that the broth was a bit bland in comparison to some of the others I've sipped in HCMC. I really liked the flanks of beef but other than that, it seemed like a pretty ordinary bowl of noodles. I like how the menu changes day-to-day but the dining is not a heavenly experience. Still, it's very satisfying and the dish is well-balanced.
👉 Do you have a favorite noodle shop in Saigon? If so, share your number one in the comments down below!