Pancit Bihon: Filipino Soul Food

Pancit Bihon is a Filipino noodle stir-fry dish with Chinese origins. While the 'Bihon' version uses glass noodles, the 'Canton' version calls for lo mein type egg noodles.
For those who know me, I'm am loud and proud about my love of Filipino food!!! I even dedicated a whole post to why eating is more fun in the Philippines. Pancit is a symbol for longevity (aka a long, happy life) and is eaten at every special occasion, especially at birthday parties! There are two types: pancit canton and pancit bihon. The two are distinguishable based on the noodles used to make them. Filipino food has yet to be consumed by the mainstream, which is primarily because its a bit inaccessible unless you know/are friends with a Filipino person. All you need to have when cooking Filipino food is tested recipe and we are going into my family's treasury as the recipe included at the bottom is a recipe from my very own Lola (meaning grandma in Tagalog) recipe.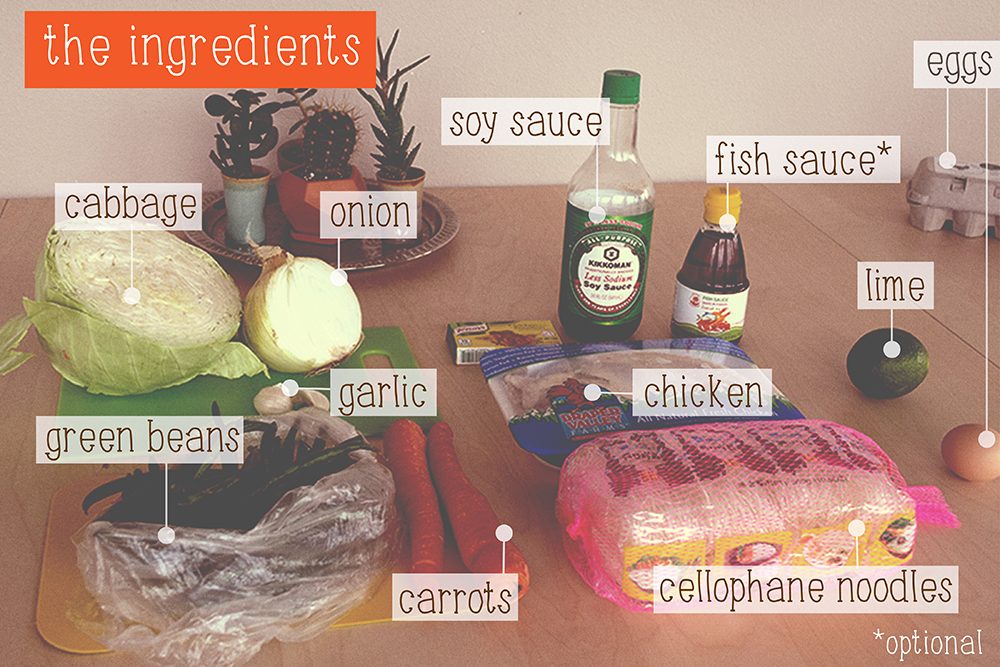 ABOUT THE INGREDIENTS

Cellophane noodles ARE NOT rice noodles. They're

made from a starch such as mung bean, yam, potato, or cassava. We like to use the mung bean one.

If you're big on veggies, the recipe printable gives you additional veggies to beef up the mix. If you want to make a purely vegetarian dish, just take out the chicken and substitute the chicken stock with vegetable broth. And this is vegan friendly too minus the eggs! I really love the shitake mushrooms in there.

If you feel like you have the time, boil your own chicken (like Tom and Mira did) but I'm lazy and go straight for rotisserie. Get a can of chicken broth if you go the rotisserie route.

The soy sauce used in the video is a Filipino variety called 'Toyomansi' (toyo = soy sauce + mansi = calamansi.) Calamansi is akin to a Filipino key lime and it packs a powerful punch. You can find it at any Asian store. But from what I learned from my Lola, she always goes with Chinese soy sauce.

And to add some brightness, squeeze some fresh calamansi over the pansit, do it! Otherwise a lime will work just fine 😉
PANCIT BIHON COOKING INSTRUCTIONS
ONTO THE PREP WORK! FIRST, GET THEM VEGGIES CHOPPED!
CONTINUING THE PREP, DON'T FORGET TO SHRED YOUR CHICKEN!

NOW ONTO THE COOKING!
PRO-TIP: Be careful with adding too much broth. Remember, you can add but you can't subtract broth.

There you have it! This is pancit at is finest as made by the Pulido girls by way of the Tangonan knowledge collective. This dish is my family's specialty, both my Lola's and now my mom's. My dad even made a killer pancit recipe and he made the BEST pancit palabok (another noodle dish with a seafood-infused sauce topped with cooked shrimp, crushed chicharon, fried garlic, and scallions. SO GOOD!) I honestly cannot think of a better meal that reminds me more of home and now my siblings and I are set to continue those traditions and master the recipe just like our parents and grandparents before us.
Feel free to print this out. This recipe has been passed down my mom's family from generation to generation.

WATCH THE TUTORIAL VIDEO TO GET ALL THE STEPS RIGHT
---
Looking for more recipes?
Spanish Lemongrass and Chili Croquetas
Italian "Pasta Alla Carbonara"
👉 In the kitchen… comment below to share more recipes for me to discover!
Give me a shout-out on Pinterest pretty please?
Save
Save