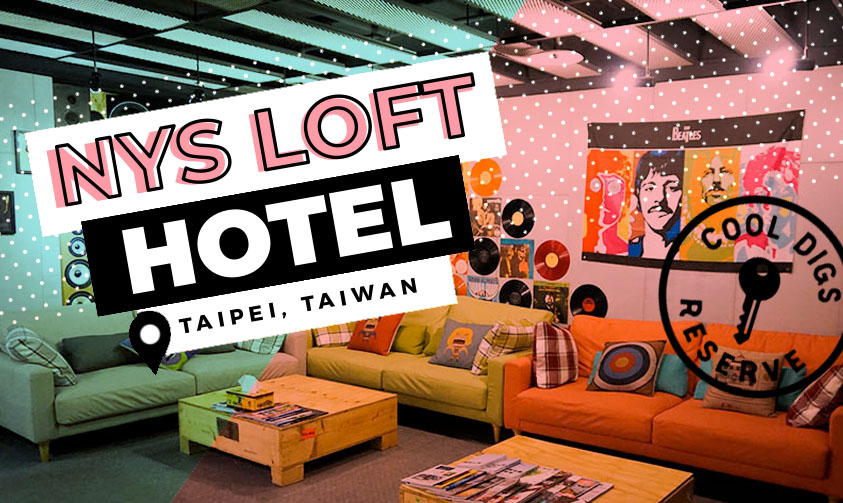 Looking for a cool place to stay? Check into NYS Loft Hotel in Taipei, Taiwan, a hotel with a whole lot of industrial charm, just a short walk away from Taipei Main Station.
For those who plan to visit Taipei, you'll come to realize that the number of hotels to choose from can get overwhelming fast. That's when having parameters to help with decision making becomes an absolutely necessity. For me, one of my biggest factors I always prioritize is great location. Which is why, when I discovered NYS Loft Hotel (3F, No. 1, Nanyang Street, Zhongzheng District, Taipei, Taiwan), a charming new hotel situated right across from Taipei Main Station, the city's main train terminal, my mind was quickly made up. The hotel's aesthetics and infrastructure have come to fuse different concepts to create an entirely new breed of hotel experience that is hard to peg down.
How to get there from Taipei Main Station: Go out of the main doors of Taipei Main Station and look for Caesar Park Hotel across the street. NYS Loft Hotel is around the corner from the hotel. If you find yourself taking the underground mall route, take exit M6 or M8 to get to NYS Loft Hotel.
All bathrooms come with free toiletries
Free towels and linens
Shared kitchen (open to all guests)
On-site washer/dryer with ironing service
Free unlimited wireless access
Soundproof rooms
Wake-up service
Shared lounge space with board games/puzzles
Airport pick-up for a surcharge (ask in advance)
Towels and security lockers available upon request (dorms only)
Multilingual: resources available in English, Japanese, and Chinese
Wheelchair friendly (there is an elevator)
Located on the third floor, the 80-room property is a combination of shared and private rooms, spread across two floors. The hostel-hotel hybrid makes for a fully inclusive experience, with the rooms styles mixed together and not segregated unlike some other establishments. This facility was also designed for disabled guests in mind so if you are a person with disabilities, contact the hotel management who will gladly help accommodate any needs.
The type of room styles to choose from include:
Full-Bed Double Bedroom with Shared Shower (for 2 people)
Full-Bed Double Bedroom with Shared Bathroom (for 2 people)
Full-Bed Standard Double Room with No Window (for 2 people)
Comfort Triple Room with Shared Bathroom (for 3 people)
Standard Twin with Private Bathroom (for 2 people)
Double Deluxe Room with Sofa Bed and Private Bathroom (for 3 people)
Comfort Family Room with No Window and Private Bathroom (for 4 people)
Twin Standard Single Room with Shared Bathroom (1 person)
Deluxe Single Room with Shared Bathroom (1 person)
Comfort Quadruple Room with Shared Bathroom (for 4 people)
Deluxe Twin Room with Shared Bathroom (for 2 people)
We opted for Standard Double Room with a full bed and private bathroom. Even though the rooms are small, you can't help but admire the smart use of space. This room was made efficiently. From the small sofa in the corner to create a pseudo-lounge area to the outlets featuring USB ports and a number of outlet varieties so you can charge all items in one area, the attention to details negate the absence of space.
NOTE FOR FAMILIES TRAVELING WITH CHILDREN
All children are welcome but please note that this property property cannot accommodate additional beds in the rooms.
---
When I asked Ivy and Kevin what the most important thing about the hotel, they both agreed that it was all about atmosphere. And from the moment you step into the hotel lobby, you can feel a strong commitment to creating all around good vibes. The theme of the hotel, according to Kevin, is inspired by their travels. During his adventures with Ivy around the world, they decided to pick up the "good feelings" from all the hotels/hostels they stayed at. This combination of ideas makes the hotel feel more open to all kinds of travelers, even families. There are no restrictions here. The balance between a hostel's communality and a hotel's penchant for intimacy, is perfectly struck NYS Loft. Some of my favorite details: the a grunge treatment to many of the barewood walls,with stenciled text effects to add texture. You can't miss the graffiti wall with names of international cities. I also love how the common area feels so very retro with the throwback stereos and old vinyls lining the wall. You can clearly see that they borrowed from various design concepts. Repeated throughout the space is the overall presence of dark colors mixed with eye catching splashes of color. NYS Loft is all about doing more with less space, a typical problem in densely concentrated Asian cities such as Taipei.
QUICK BITES TO GO
A light selection of complimentary breakfast is offered on the weekends. If you're looking for a big meal, get out on the streets where food is plentiful. The breakfast here is more something to hold you off until your next big meal. During our breakfast, we got to choose from salty porridge or a steamed pork bun. There was also a steamed cabbage bun for vegetarians. For beverages, you can choose between either milk tea, orange juice, or 3-in-1 coffee.
---
The NYS Loft Hotel first opened its doors in mid-August of 2016 and have been enjoying steady business ever since. The owner, Kevin, is a Taiwan native and he runs this property with his lovely girlfriend Ivy, who takes on a supporting role as head of marketing. Kevin is an active owner; he handles all administrative work while engaging with all the customers to create a more personal stay. The two credit their success to their response to feedback, ensuring that all critiques given are immediately attended to. In the future, they're toying with the idea of expanding but won't until the NYS Loft runs smoothly and the customers feel absolutely comfortable in the environment the two have created.

CHECK-IN/CHECK-OUT
Check-In: 3 PM. Check-out: 11 AM. Cancellation and prepayment policies vary according to room type. All children are welcome. Please note that room with a 2-person rate is subjected for 2 adults, or 2 adults and 1 child under 3 years old.
PRICE
Private rooms with showers starting at $88 per night. Four bed dormitories starting at $28.50 per night. BOOK HERE.
REVIEWS
Visit the NYS Loft Hotel Facebook as well NYS Loft Hotel on TripAdvisor for more firsthand reviews.
OVERALL RATING
7/10
✪✪✪✪✪✪✪
✪✪✪
---
DISCLAIMER: I was a guest of NYS LOFT Hotel, but all opinions and photos, as always, are my own.
---
Give me a shout-out on Pinterest pretty please?