Vietnamese Food: 10 Dishes You Need To Try
What is the best Vietnamese food in my opinion? Here are my top ten picks.
The recent media attention on Vietnamese gastronomy (see Bon Appetit's "phở pas" and POTUS Barack Obama's bún chả rendezvous with Anthony Bourdain) has skyrocketed its popularity to new heights. While Vietnamese cuisine abroad has been reduced to the mere trappings of phở and bánh mì, the full spectrum of Vietnamese food is a symphony of delightfully textured, bright and piquant flavors. Northern food is known for its simplicity, while the dishes of central Vietnam are considered the most generous in terms of spice and quantity. Southerners add sugar to many dishes, a preference influenced by neighboring Cambodia and Thailand. As they say in Vietnamese, "Chúc ngon miệng!"–enjoy your meal!
Visit the official Vietnam Tourism website for the full-length article on Vietnamese food: "The Top 21 Best Vietnamese Dishes."
1. Pho

Phở is the quintessential Vietnamese dish, the word phở referring to the type of noodle used in the recipe. Flat rice noodles dance around with medium-rare slivers of beef or boiled chicken in a hearty beef stock. The more popular of the two widely known varieties is Phở Hanoi. Originally from the north, it is distinguished by a clear broth and dressed only with a squeeze of lemon and slices of bird's eye chili. The southern iteration, Phở Nam, has a murkier broth and is served with a bouquet of fresh herbs like bean sprouts, basil and mint. The broth is usually infused with fragrant star anise, clove and cinnamon to lend a natural sweetness to the mix.
Eat it here: Pho Quynh, 323 Phạm Ngu Lao Street, District 1, Ho Chi Minh City, Vietnam
2. Banh Mi
Baguettes may have been adopted from the French, but bánh mì is as Vietnamese as it comes. Paté and margarine are spread across the soft, chewy interior of a baguette and later, the sandwich is loaded with pickled vegetables, fresh cilantro, pork belly, pork floss and cucumber. Sink your teeth into the crunchy crust and watch the warm roll give way to a whole scheme of textures.
Eat it here: Madam Khanh "The Banh Mi Queen," 115 Tran Cao Van Street, Son Phong, Hoi An, Vietnam
3. Bun Cha
Bún Chả became an overnight sensation after President Obama was pictured scarfing down a bowl of these grilled pork sliders. But this specialty of the Old Quarter in Hanoi has always been popular among the locals. Around lunchtime, the scent of pork grilling over hot charcoal wafts down the sidewalks, filling the noses of hungry Hanoians. This classic northern dish is comprised of cold bún (rice vermicelli); slices of seasoned pork belly; a mountain of fresh herbs and salad greens; and last but not least, medallions of minced pork swimming in a bowl brimming with a fish sauce-based broth. Check out my feature on following the footsteps of Anthony Bourdain in Vietnam.
Eat it here: Bun Cha 34, 34 Hang Than Street, Nguyen Trung Truc, Ba Dinh, Hanoi, Vietnam
4. Com Tam

Back in the day, Vietnamese farmers would eat the fractured rice grains they could not sell. Nowadays, "broken" rice is a food staple for the everyday working class citizen. For a meal of humble origins, the preparations for cơm tấm can get very decadent. While it is prepared in a number of ways, the most popular is cơm tấm sườn nướng ốp la. A fried egg is paired with caramelized grilled pork chop and laid out on a generous heap of broken rice. The dish is then slathered with nước chấm, a mixture of chili, fish sauce and sugar, and a drizzle of green onion oil.
Eat it here: Com Tam Ba Ghien, 84 Dang Van Ngu, Phu Nhuan District, Ho Chi Minh City, Vietnam
5. Cao Lau
A dish unique to Hoi An, cao lầu is beyond compare. Saluting the history of the coastal trading port from where it originated, this sensuous bowl of noodles is a fusion of Japanese, Chinese and Vietnamese influences. Slices of Chinese barbecued pork are fanned over cao lầu noodles. These thick noodles, with the same heft as Japanese udon, are then doused with a spice-laden broth and topped with fresh herbs and crushed pork cracklings. Authentic cao lầu is said to be made from the water found in the thousand-year-old Ba Le well in Hoi An, rumored to have magical properties.
Eat it here: Mot Hoi An, 150 Trần Phú, Minh An, Tp. Hội An, Quảng Nam, Vietnam
A short visual intermission of my favorite eats…
6. Mi Quang
Part soup, part salad, mì quảng gracefully pulls off an identity crisis. That being said, don't let the elegance of mì quảng fool you. This light and springy noodle dish from the Quang Nam province in central Vietnam is street food. The vibrantly yellow noodles owe their rich color to the turmeric-infused broth made rich with peanut oil. Only a ladleful is used in the making of this "soup", which can be topped with anything from shrimp and chicken to pork belly and snakehead fish. Eat mì quảng with sliced banana flowers, Vietnamese coriander, basil and toasted sesame rice crackers.
Eat it here: Quan Mi Quang Ba Mua, 95 Nguyen Tri Phuong, Chinh Gian, Thanh Khe, Da Nang
7. Banh Xeo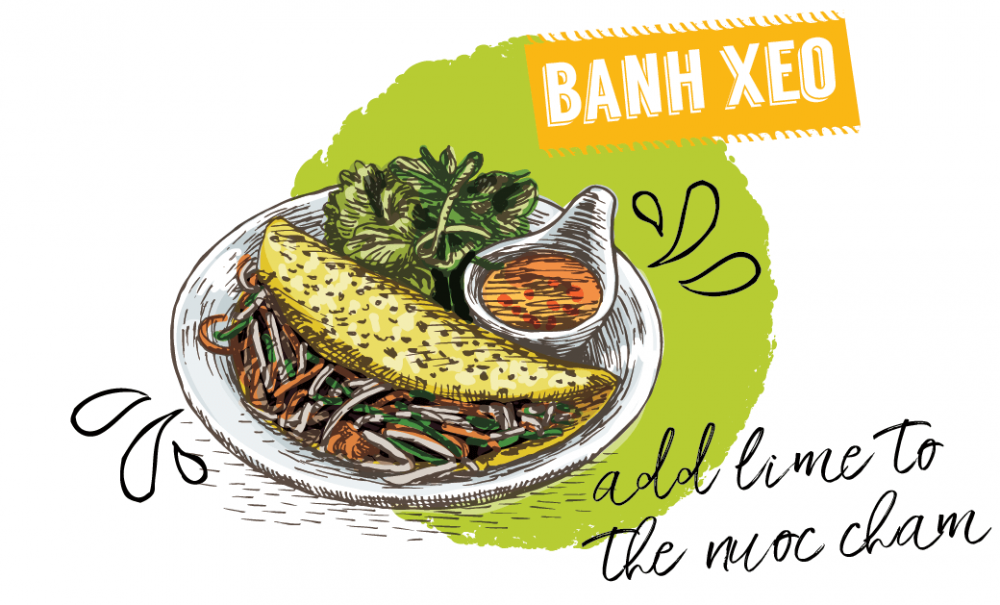 Bánh xèo is widely eaten around south and central Vietnam. Watching the crispy crepe being assembled is an audio-visual experience: the batter crackles loudly when it hits the hot pan—xèo meaning sizzling—and the edges gradually curl and golden as the skilled xèo maker deftly swirls the pan to evenly spread out the dense batter. The batter, traditionally made from rice flour and coconut milk, owes its yellowish hue to the addition of turmeric. The savory pancake is filled with slices of boiled pork, minced pork, bean sprouts and shrimp and then folded in the manner of a crepe.
Eat it here: Banh Xeo Ngoc Son, 103 Ngo Quyen Street, Ward 11, District 5
8. Goi Cuon
An action-packed salad roll, gỏi cuốn is bursting at the seams with freshness. The semi-transparent skin is made from softened sheets of rice paper. Encased within is a stack of leafy greens, mint, coriander, proteins, and a stalk of garlic chive poking out from the snugly wrapped roll. The most common variety of gỏi cuốn is a surf and turf combo of pork tenderloin and shelled shrimp. The roll is either dunked in a bowl of nutty hoisin sauce or nước chấm. You can ask for a meat-free preparation as well. For a full on guide on how to eat vegetarian in Vietnam, click here.
Eat it here: Quan An Ngon, 18 Phan Boi Chau, Hoan Kiem, Hanoi
9. Ca Phe Trung
For a new brew to add to your coffee repertoire, cà phê trứng is something not to be missed. The story goes that this Hanoian delectable was invented by accident. Seventy years ago, the then-barman of the Sofitel Legend Metropole, Mr. Nguyen Giang, ran out of fresh milk on a shift to serve for the coffee. He ingeniously created a substitute mixture of egg yolks and condensed milk, and the rest is history. More of a confection than an actual caffeine boost, a frothy meringue-like substance is perched atop a cup of black coffee.
Drink it here: Giang Cafe, 39B Nguyen Huu Huan, Ly Thai To, Hoan Kiem, Hanoi (home of the original recipe)
10. Che
Chè is a sweet, beverage-like dessert, served either hot or cold. Sometimes, it comes in the form of a pudding while others have likened it to a dessert soup. Cold chè is speckled with jellied ingredients and tropical fruits like bananas, mangoes and longan, usually doused in coconut milk. The firm crunch of artificially dyed water chestnuts is somewhat of a surprising encounter in the syrupy pool. Try the beautiful three-colored dessert, chè ba màu. Often called the rainbow dessert, this is a layered spectacle of red beans, mashed mung beans and pandan jelly, topped with crushed ice and coconut sauce.
Eat it here: Co co Che Campuchia, 57 Alley, Ho Thi Ky Street, District 10, Ho Chi Minh City, Vietnam

Your Guide To Eating in Saigon, Vietnam 🇻🇳 by thenextsomewhere on Jumprope.
👉 I'm on the quest for the best food finds! Let me know if you agree or disagree with my picks on top Vietnamese Food.
Give me a shout-out on Pinterest pretty please?