Kulaç, also known as Albanian soda bread, is often used as a bread substitute in Albanian homes because of how quickly you can make it.



've invited an old college friend of mine, Livja, to introduce a favorite family dish: Kulaç. Livja has been creating and editing such incredible videos for as long as I've known her and she's a proud of her Albanian heritage. I'm excited that she's bringing the culinary traditions of her people to the table with the help of all her family members. Don't forget to watch the tutorial video at the bottom and please subscribe to her Youtube Channel to get some more "storytelling with a soul." Traditionally, one would bring a Kulaç to important dinners, engagements, and baptisms. Kulaç is typically made for breakfast and can be eaten salty (with butter and feta cheese) or sweet (with honey or jam).
Words from Livja:

Does everyone think their grandmother is the best cook in the world? Because my nena is a magician in the kitchen – I'd bet money on Leta. I've realized that if I want to inherit her epic cooking skills and carry on our Albanian family recipes, I'm going to have to learn now! Why not start with a legendary Albanian staple – Kulaç (pronounced kulach)? This recipe is so easy and tasty, it almost doesn't make sense – check it out!
ABOUT THE INGREDIENTS

The yogurt does not have to be Chobani but it does have to be whole milk.
After the kulaç has baked, you can eat it plain or use different spreads. It's traditionally eaten with feta cheese, but you can also use butter, honey, jam, and fig preserves.
If you decide to serve the kulaç before it is completely cooled down, just break it with your hands instead of using a knife because the knife will disturb the consistency of the kulaç.
KULAÇ COOKING INSTRUCTIONS
PREHEAT OVEN TO 400 DEGREES FARENHEIT
DECORATE THE KULAC LIKE NENA

PUT THE KULAC IN THE OVEN

LEAVE IT TO COOL DOWN STANDING UPRIGHT FOR 30 MINUTES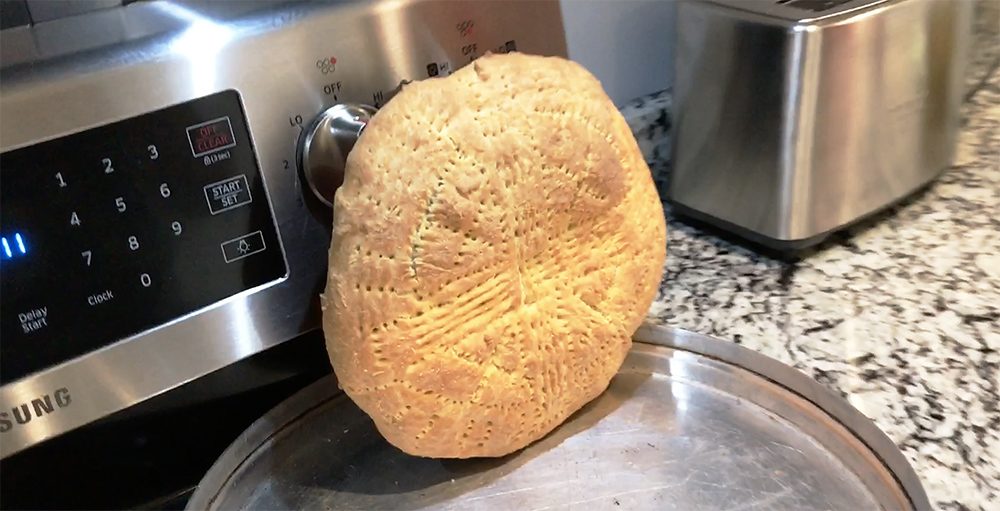 WATCH THE TUTORIAL VIDEO TO GET ALL THE STEPS RIGHT
---
Looking for more recipes?
Spanish Croquetas with Lemongrass Chili and Shrimp
Italian "Pasta Alla Carbonara"
👉 In the kitchen… comment below to share more recipes for me to discover!
Give me a shout-out on Pinterest pretty please?