48 Hours in San Francisco: What To Do, See, and Eat
Only have two days in San Francisco?
All you need is a good pair of walking shoes and a trusty windbreaker to navigate one of America's greatest treasures: the city by the bay, San Francisco. In addition to the iconic Golden Gate Bridge, San Francisco is scattered with sprawling parks, nouveau Americana architecture, and neighborhoods brimming with history and diversity. Get ready for two days in San Francisco!
EARLY MORNING (7 – 9 am)
Neighborhood: Mission District
Locations: Tartine Bakery at 600 Guerrero Street, Fayes' Video & Espresso Bar at 3614 18th Street, Mission Dolores Park at the intersection of Dolores and 19th street
In a nutshell: The bakery that beats all other bakeries
The early bird catches the worm oven fresh buns at the ever-popular Tartine Bakery. The bakery boasts a James Beard Award for outstanding pastries and fan favorites include the Morning Bun, the Pain au Chocolat, and the Banana Cream Tart. If you go early enough, you will miss the morning crowd but by 9 am, that line will be out the door and around the corner so get some reading material ready. Mondays and Thursdays are usually the busiest days, as are the weekends.

If the line at Tartine has you instantly discouraged, walk across the street where you'll find Fayes' Video & Espresso Bar, a multi-concept store slash community hangout, home to shelves of zany stationery products, DVDs you can rent, and a full roster of caffeinated goods including some of the best iced coffee you will ever have. With a latte in hand, make your way to Mission Dolores Park where everyone and their dog will be out catching frisbees and some Vitamin D on this grassy knoll with palm trees swaying in the wind. Walk all the way up the hill for a lovely snapshot of San Francisco's skyline.

MID-MORNING (9 – 11 am)
Locations: Twin Peaks
In a nutshell: 360-degree views of the Bay Area
If you have a car, Twin Peaks, the best lookout point in all of San Francisco, is only a sweet 10-minute drive from Mission Dolores. Otherwise, get those sneaks laced up because you're about to give your glutes a run for their money. When Spanish settlers first came upon the pair of 922-feet-tall summits, they called them "Los Pechos de la Choca," the Breasts of the Maiden. Today, Twin Peaks welcomes a bevy of tourists and lovers scoping out a decent make-out spot. Cross your fingers for a clear day because when the fog rolls over, it will completely obscure the fine view. But a rolling fog will give you the feeling of being in a real-life timelapse and that's pretty cool too.
LUNCHTIME (12 – 12 pm)
Neighborhood: The Castro
Locations: Kasa Indian Eatery at 4001 18th St, Cliff's Variety at 479 Castro Street, Hot Cookie at 407 Castro Street, The Castro Theatre at 429 Castro Street
In a nutshell: Love wins

You can't leave San Francisco without visiting The Castro, the gayest of all gay neighborhoods in the United States of America. Here, rainbow is the color palette of choice, poorly designed work is a crime, and Harvey Milk is a local hero. There are a number of great restaurants to get your brunch on but for something tried-and-tested, Tim and I ate at Kasa Indian Eatery. They specialize in kathi rolls, a wrap using rothi or naan bread and stuffed with curries and chutneys. The space is filled with a lot of om coming from the electric fuchsia walls and black and white photos of everyday India to balance out the vibrancy.
In a past life, this neighborhood once went by the name Eureka Valley, but was renamed the Castro after the landmark theater that screens Oscar-nominated films, cult favorites reworked with a drag storyline, and even Disney and R.Kelly singalongs. Next door to the Castro Theatre is Hot Cookie, another tourist spot known for its genital-shaped baked goods and red hot line of skivvies. Also nearby is Cliff's Variety, a variety store selling souvenirs you actually would want to bring home and wigs just in case you need to tap into you alter ego.
AFTERNOON (3 – 5 pm)
Neighborhood: Haight-Ashbury
Locations: Painted Ladies in Alamo Square Park, Amoeba Music at 1855 Haight Street, The Booksmith at 1644 Haight Street, Golden Gate Park, NOPA at 560 Divisadero Street
In a nutshell: The heartland of hippy culture
Haight-Ashbury is a much beloved part of San Francisco. The children of the sixties first planted their roots here and never left. Meanwhile, cool kids from the block started moving in and next think you know, The Haight is now the address for all the eccentrics in town. Find some secondhand threads, get a hat custom fitted, browse through one of the largest CD collections on earth at Amoeba Music, and admire some of the finest displays of literary curation at The Booksmith. For fans of the Grateful Dead, you can even pay your respects at the band's old communal home. Following that same tune, make your way to Golden Gate Park at the end of this street, and at the park you'll see Hippy Hill, where Janis Joplin's Tree proudly sits. The popular American singer-songwriter used to serenade stoned parkgoers with the steady thrumming of her guitar. Today, all you'll find is new age drum circles and a whole lot of edibles.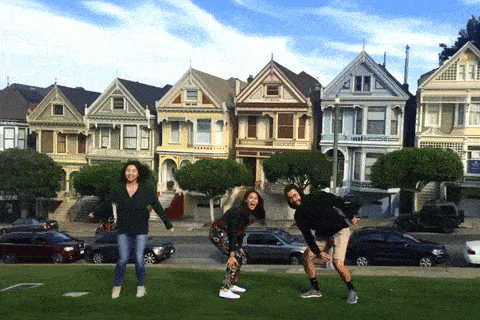 Do you have more in you?
Postcard Row is a less than a half an hour walk from The Haight. This picturesque strip of colorful Victorian homes, also known as
The Painted Ladies
, was made popular by the opening of credits of Full House, and has been in countless movie and tv credits thereafter. If you're appetite is urgent,
Nopa
, one of the Bay Area's most trendy restaurants featuring rustic Californian fare cooked in a wood fired oven, is right around the block. Reservations are recommended so call ahead on your walk over.
EVENING (6 – 10 pm)
Neighborhood: Union Square
Locations: Zzan Korean Restaurant at 643 Post Street, Color Factory at 575 Sutter Street
In a nutshell: A commercial hub with stores on stores on stores
Check out Union Square, a public plaza where prime people watching takes place. Many tourists come to shop until their hearts drop and also to watch the manual cable car turnaround at the intersection of Powell and Market Streets. Tim and I were hankering for some Korean and Zzan Korean Restaurant did not disappoint. Dishes reminiscent of our time in Korean paired nicely with yogurt-flavored makgeolli, a fermented rice brew, that I could've drank bottles and bottles of. San Francisco KNOWS how to do Asian food—other recommendations are Dragon Beaux on 5700 Geary for dimsum and Burma Superstar on 309 Clement Street for Burmese food.
EARLY MORNING (8 am – 12 pm)
Neighborhood: Marina
Locations: Golden Gate Bridge on Lincoln Boulevard near Doyle Drive and Fort Point, Palace of the Fine Arts at 3301 Lyon Street
Attractions: Arguably the most beautiful, if not most photographed, bridge in the world
After a good night's rest, gear up for a leisurely walk across the Golden Gate Bridge. No coffee? No problem! The high winds will perk you up in no time! An engineering feat of its time, the majestic Golden Gate Bridge, more of an ochre red-borderline-orange hue, has never failed to impress me every time it comes into view. Be prepared to take it slow during this 3.7-mile walk there and back. The bridge is highly trafficked on weekends and days with especially good weather. Take in the gravity of how massive this bridge is by looking down at the minuscule ships passing underneath. Once you make it over the bridge, a number of lookout points, such as Battery Spencer and Hendrik Point, offer sweeping views of the bay, Alcatraz Island, and the SF skyline. If this stroll feels more cumbersome than fun, a rental car might be your only option. But believe me when I say that for all the times I've driven across and paid that $8 toll back into San Francisco, I've envied the bridge walkers.
Hungry? Go straight to Fisherman's Wharf.
Feeling unhurried? Head to The Palace of Fine Arts to sit your weary legs down at one of the park benches. Built in 1915 to showcase works of arts, the public outdoor gallery quickly turned into one of the most revered commons spaces in the city. The mammoth gazebo structure with its Greco-Roman touches, flanked by colonnades and evergreens, sits next to a charming pond featuring a floating fountain. Spot how many wedding photoshoots are taking place. Families welcomed. Parking is limited.
LUNCHTIME (12 – 3 pm)
Neighborhoods: Fisherman's Wharf
Locations: Musée Mécanique at 45 Sausolito in Pier 41, Pier 39 at Beach Street and Embarcadero, Alcatraz Island
In a nutshell: Sourdough bowls brimming with soup and a herd of sleepy (sometimes singing) sea lions
Fisherman's Wharf might be one of the more obviously "tourist-oriented" spots but embrace it! You are one! One of my fondest memories visiting San Francisco as a child was eating clam chowder out of a hollowed-out loaf of sourdough with my dad, and I got to recreate that memory on my most recent trip to Boudin's Bakery, home of the original sourdough starter. Also PSA for gluten-free/sensitive readers: properly made sourdough negates the effects of gluten so go wild! There is a museum, sit-down restaurant, and even a store that will ship 10 loaves to your home. Best souvenir ever for the foodie nation.
Post-lunch, there's tons to see and do around Fisherman's Wharf, which bleeds into Pier 39. Fisherman's Wharf has the likes of gimmicky Madame Tussaud and Ripley's Believe it or Not! museums, but it also has the Musée Mécanique, a coin-operated arcade game museum, with modern machines, as well as those dating back into the early 1900s. The museum is free to enter and loads of fun but don't waste all your time playing skee ball. Where Fisherman's Wharf falls short in flashiness, Pier 39 makes up for in overpriced food and "I heart San Fran" hoodies. You might even stumble on a magic show. And don't forget to check out Pier 39's world famous colony of sea lions moseying about on the floating docks out in the marina.
Think of skipping Chinatown? From Pier 39, you can take a ferry to Alcatraz Island>. Paid tours take you around the military fortification turned prison, rumored to be haunted by the souls of America's most soulless individuals.
AFTERNOON (3:30 – 5 pm)
Neighborhoods: Chinatown, Russian Hill
Locations: Lombard Street, Dragon's Gate at the intersection of Bush Street and Grant Avenue, Golden Gate Fortune Cookie Factory at 56 Ross Alley
In a nutshell: The "crookedest" street in the world
Welcome to the first Chinatown in North America and one of the largest Chinese settlements outside of China despite the eight block by three block vicinity it occupies. The ornate threshold, Dragon's Gate, announces the beginning of your march uphill through a bygone world. Fun fact: the buildings were built by city officials in the late 19th century based on what they imagined China looked like. Get off the main drag where souvenir shops are dime a dozen and go explore the little alleyways. If you catch the faintest scent of fortune cookies wafting through the air, that's from the Golden Gate Fortune Cookie Factory, the bakery that has been supplying Chinatown's restaurants with fortune cookies since the 60's.
EVENING (6 – 8 pm)
Locations: Ferry Building Marketplace at 1 Ferry Building
In a nutshell: Artisanal eats housed under one roof
Finish off the FULL 48 hours at the Ferry Building Marketplace, a favorite food hall for SF locals and tourists alike. This is still a working ferry station, with commuters coming in from nearby Oakland and Marin County, but fifteen years ago, the aging ferry building was renovated to accommodate the addition of a public market selling specialty goods. The culinary fare is a solid reflection of San Francisco's diversity. For the freshest oysters, try San Francisco Fish Company.For modern Vietnamese, try Slanted Door. For coffee, try Blue Bottle. For artisan cheese, try Cowgirl's Creamery. And for all things smoked, try Gott's Roadside. On Tuesdays, Thursdays, and Saturdays, a farmer market rolls in, and you can't count of fresher produce than their stockpile.
AND HERE'S A MAP OF ALL THE POINTS OF INTEREST!

11 Things To Do in San Francisco, CA 🇺🇸 by thenextsomewhere on Jumprope.
👉 Is there anything you would recommend if you only had 48 hours in San Francisco? Share your must-dos in the comments below!
Give me a shout-out on Pinterest pretty please?