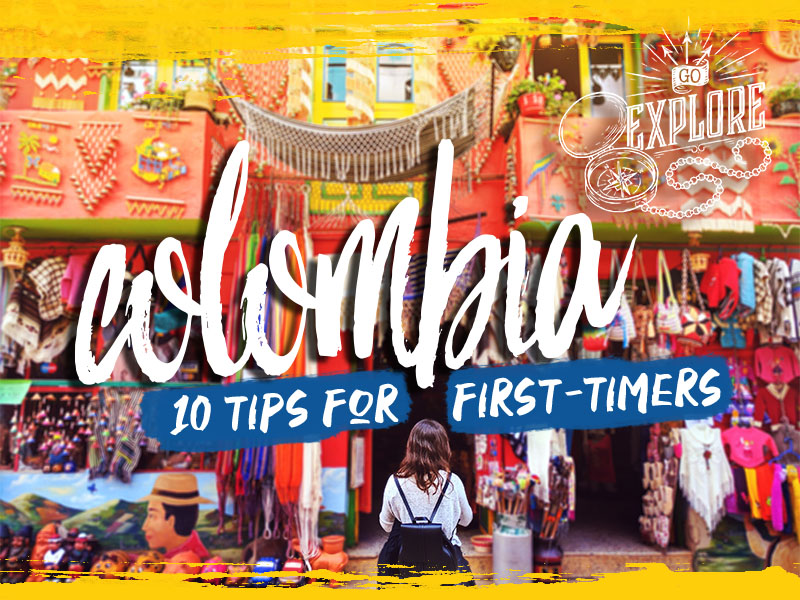 10 Things To Know For Your First Trip to Colombia
Are you going on your first trip to Colombia?
With stunning beaches, vibrant heritage towns, and a fascinating food scene, it's easy to see why Colombia has become one of the fastest-growing vacation destinations in South America. For years, an uncomplimentary reputation befell the country, tainting its image abroad with stories of violence and drug cartels. But those days are long behind them and thanks to the uptick in inexpensive flights to Colombia, travelers are rediscovering a country rich with adventure, nature, and culture. Here are ten helpful tips for your first trip to Colombia, shared by my friends Kat Giraldo and Raisa Velasquez.
1. MAKE A GAMEPLAN.
A lot of people underestimate just how big Colombia is and therefore, "winging it" is highly inadvisable, especially if you are on a time crunch. Before going on your trip, take the time to research and map out an itinerary based on your personal interests. The capital city of Bogota is a great primer on the history of the country. Medellin is the cultural heart. For those looking for touristy experiences, Cartegena is the place for you. From coffee plantations to eco-escapes, there's truly something for every type of traveler in Colombia.
Tip: Is Colombia safe? For independent travelers questioning general safety, just exercise good judgement. Some areas are safer than others, so learn which neighborhoods to avoid. Avoid walking alone in the dark late at night and watch out for your belongings when in crowded places.
2. TAKE ADVANTAGE OF INEXPENSIVE FLIGHTS.
While public transportation in Colombia is really good, domestic flights are insanely cheap, especially if you book in advance. Take advantage of $20-30 USD deals instead of spending 10 hours on the road and wasting a travel day. Avianca and VivaAir are top budget airlines in Colombia.
Tip: If you are traveling with VivaAir, print your airline ticket in advance (ie. at your hotel) because they charge $20 USD to print your ticket at the airport. Also, when taking budget airlines, it's best to read the fine print carefully.
3. KNOWING SPANISH IS A MUST.
Spanish is the official language of Colombia and very few people speak English, even in the more touristy areas. So, you should try to learn some key phrases at the very least before you head out there on your trip. If you plan to stay in Colombia for some time, consider investing in some proper tutelage. The Medellin Spanish Language School is one of the country's most notable language learning institutions and can be a really great professional investment as well.
4. EACH CITY HAS ITS OWN UNIQUE CULINARY OFFERINGS.
The cuisine you will encounter in Colombia is among some of the most amazing food you will find in the entire world! Colombia's cuisine is heavily influenced by a Spanish and African culinary traditions. In Medellin, you'll find Bandeja Paisa, a dish made with white rice, chicharron, plaintain, fried egg, beans, powdered beef, and arepa. Also try Sancocho (beef stew) and Aguardiente Antioqueño, a licorice flavored liquor and an emblem of Colombian pride. In Bogotá, there's ajiaco, an herb-ridden chicken and potato stew, and you cannot miss out on tamales for breakfast at La Candelaria's La Puerta Falsa. If you make your way to the coast ("La Costa"), fish with coconut rice is a local treat, as well as arepa de huevo, an arepa stuffed with egg.
5. SAY NO TO BEACHSIDE EATS.
When in Colombian coastal cities, NEVER eat food sold on the beach/streets by vendors. There is no question you will get sick. Even drinking and washing your teeth with tap water will give you stomach problem. Also, avoid salads as they are most likely washed with tap water.
6. LOCALS IN MEDELLIN DO NOT APPRECIATE PABLO ESCOBAR TOURISTS.
If this is your first trip to Colombia, and you're visiting due to a fascination with the infamous drug lord, Pablo Escobar, please reconsider your motivation to visit the country. For many locals in Medellin, many of the criminal activities associated to Escobar brought nothing but pain. This type of dark tourism is seen as deeply insensitive and offensive to those who were directly impacted by Escobar's reign of terror.
7. THE BEVERAGES IN COLOMBIA ARE ANOTHER SPECIALTY.
Natural juices in Colombia are a must! The unique flavors are the result of fantastic biodiversity and for newcomers, start your days off sampling passion fruit, blackberry, guanavana (soursop), guava, tamarillo (tree tomato), and tamarind. Another popular beverage is guarapo, or sugarcane juice extracted from pressed sugar cane.
8. COLOMBIANS LOVE A GOOD PARTY.
There are no less than 10 carnivals/festivals per month in Colombia but the main ones are: Carnaval de Barranquilla⁠—the second largest in the world (February), Carnaval de Negros y Blanco (January), La Feria De Las Flores in Medellin (August), Feria de Cali (December/January), and Feria de Manizales (January). Many of these holidays are dictated by the Catholic calendar and are absolutely wild!
9. EXTEND YOUR STAY IN MEDELLIN.
Medellin is a massive city with so much terrain to cover and you will be much more satisfied if you're not rushing through your visit. Friends have suggested no less than three days when planning a visit. In that time, you can really get to know the city and also take day trips to places like Guatape and Jerico. The pueblo of Jerico is home to Ecoland, a fun retreat to go paragliding through the Andean cordilleras. While in Medellin, don't miss out on the lively Parque Llerras for a varied international food selection. For those who like a more intimate look at every day Medellin, visit Sabaneta Park. There are old school bars and the historic central square is a great place to get a feel for local living. For a list of the top five things to do in Medellin, click here.
Tip: The best way to see Medellin is by metro and metro cable. First opened in 2004, Medellin's metro cable was the first tram system in the world to be used for public transportation and made the city more accessible to low-income populations.
10. WATCH YOUR STEP.
The sidewalks in Colombia are not well-kept and full of potholes and cracks, so be extra vigilant while walking around. Its major cities aren't stroller or wheelchair-friendly and there is a considerable step from the road to the sidewalk. So, if you struggle to get around (ie. have mobility impairments, are handicapped), then you may want to limit DIY urban wanderings while you are in Colombia and opt for tour buses to orient yourself.
Is there anything else those heading out on their first trip to Colombia should know about about? Comment below!
Give me a shout-out on Pinterest pretty please?