Learn more about the Philippines and Filipino culture through the stories of 16 Filipina authors.
For the majority of my life, books have provided an instant escape whenever I wanted to travel to faraway places. However, the lack of representation on library and bookstore shelves left me feeling disconnected to stories with predominantly white characters and Westernized lived experiences. With the recent onslaught of Asian American/Pacific Islander hate crimes in the USA and Asian American and Pacific Islander Heritage Month on the horizon in May, I wanted to compile a reading list that not only highlights Asian literary excellence, but also amplifies the voices of primarily Filipina/x authors. The 16 books listed here are a return to roots, providing a sense of belonging to the marginalized and also help to decolonize the mind. All the Filipina authors featured reflect a variety of experiences: they are immigrants, migrant workers, first/second/third generation, biracial, (former) illegal aliens, albino, and LGBTQIA+ identifying, and many of these books are their literary debuts. A combination of personal narratives, educational text, and creative writing, these pieces touch upon themes of femininity, race, class, spirituality, privilege, beauty, and identity. Many of the suggested books have been written for a Filipino audience first and foremost, but also deepen understanding of Filipino culture and values among unfamiliar audiences. Special thanks to @pinaylit on Instagram for introducing me to many of these titles. From this large selection, you'll find that not all immigrant stories are the same. Scroll through the whole list or click on the title of the book to jump to its synopsis:
FICTION BY FILIPINA AUTHORS
America Is Not The Heart
by Elaine Castillo

Author Elaine Castillo presents the paradox of The American Dream through the family of protagonist, Hero De Vera. As a new immigrant to the USA housed by her beloved uncle, Pol, his wife Paz, and her young cousin Roni, Hero must find a way to reconcile her painful past in order to move forward with her life in America. Woven into this delicately-crafted family saga are untranslated Tagalog, Pangasinan, and Ilocano words, displaying all the hidden histories living inside each newcomer to the USA. The title of this novel is a spin on one of the first Filipino-American classics, America Is In The Heart by Carlos Bulosan.
In The Country
by Mia Alvar

In The Country is a stunning, lyrical work of fiction presented in the form of nine short stories. In 2016, Mia Alvar put contemporary Filipina authors on the map with her first published piece, giving voice to Filipino men and women in the diaspora. Her short stories about emigrants, wanderers, exiles, and expats across the globe expertly distinguishes the Philippine experience for each protagonist, while upholding the universal likeness of all Filipinos around the world and "in the country." The tales of a migrant worker in Saudi Arabia, the sighting of a "White Lady," and a New York pharmacist smuggling drugs to his sickly father in Manila will illicit nostalgia for many Filipinos looking for glimpses of home.
Arsenic and Adobo
by Mia P. Manansala

Out this May and available for pre-order, Adobo and Arsenic, the first installment in Tita Rosie's Kitchen Mysteries is layered with romance, comedy, murder, and all the servings of Filipino food you could want in one light, enjoyable read. This cozy mystery (ie. a mystery sub-genre involving an amateur female sleuth) will have your mouth watering as you try to solve this classic case of "whodunnnit" with heroine, Lila Macapagal, being framed for the murder of her ex-boyfriend, a food critic, all while trying to save her Tita Rosie's restaurant from closure.
The Farm
by Joanne Ramos

A dystopian novel about Golden Oaks, a luxury retreat nestled in New York's posh Hudson Valley, with every amenity under the sun provided to its residents, including a large pay-off. For Jane, an immigrant from the Philippines, the trade-off of being a surrogate mother for nine months at Golden Oaks seems too good of an opportunity to pass up. However, life on "The Farm" as Jane soon finds out, is less idyllic than it seems. A thought-provoking exploration of economic disparity, motherhood, and ethics.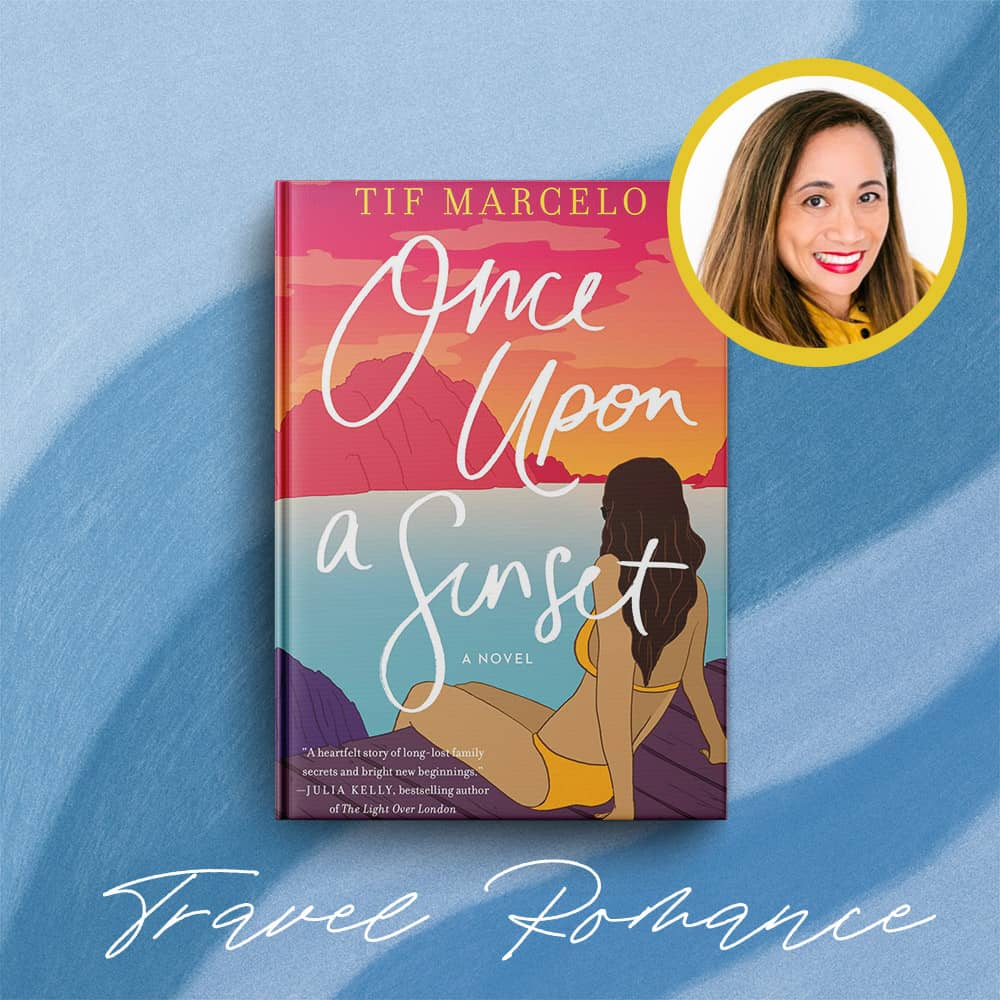 Once Upon a Sunset
by Tif Marcelo

A high-powered OB/GYN, Diana Gallagher-Cary, finds herself at a crossroads after a series of unfortunate events in her life. But when she uncovers a box of letters from her supposedly dead grandfather to her grandmother in their youth, she sojourns to the Philippines to reconnect with her long-lost family members. Along the way, she contends with her identity, her definition of family, while finding love in the unlikeliest of places.
Something in Between
by Melissa de la Cruz

One of the USA's most celebrated Filipina authors, Melissa de la Cruz is back with a young adult story about high schooler, Jasmine de los Santos. Jasmine has met every expectation laid out by her hardworking Filipino parents and with a full college scholarship within reach, everything is perfect. But in the shocking wake of her parents' expired immigration status, life as Jasmine knows it comes to a startling halt. With the threat of deportation looming overhead, Jasmine rebels to make time for the things she never experienced as an adolescent fixated on the future.
When The Elephants Dance
by Tess Uriza Holthe

Set in World War II Philippines, the fictional Karangalan family hunker down in their cellar with neighbors, consoling each other with stories of their homeland as the war rages overhead. These stories of family and community blend folklore, history, and magic, alluding to the mystical and comforting quality of storytelling as a means of survival and a tool to inspire hope in a time of devastation and violence. Trigger warning: rape, wartime atrocities.
---
NONFICTION BY FILIPINA AUTHORS
I Was Their American Dream
by Malaka Gharib

A heartwarming debut from NPR correspondent and cartoonist, Malaka Gharib, as she captures her complex upbringing as a Filipino-Egyptian growing up in the USA. This coming-of-age-story is an endearing entry among the collection of modern immigrant stories, exploring common motifs about identity, culture, and belonging, all through an illustrated, interactive storyline. I was especially fond of Malaka's presentation on the code-switching skills individuals with straddled identities must master in order to accommodate their dueling realities.
Babaylan: Filipinos and The Call of the Indigenous
Edited by Leny Mendoza Strobel

In pre-colonial Philippines, Babaylans communed with spirits of nature and the world beyond. These revered shamans were almost always women or feminized men, becoming a modern symbol for non-conforming gender. In this anthology, decolonizing scholars, artists, poets, cultural theorists, and anthropologists offer insights as to how to call back the healing spirit and wisdom of the Babayalan. The tome is rich in spiritual and cultural capital and provides a framework to tap into Kapwa psychology, the fundamental Filipino belief that all Filipinos share kinship as human beings.
Lola's House: Filipino Women Living With War
by M. Evelina Galang

A heartbreaking history lesson on the violence perpetuated by the Japanese in The Philippines during World War II. Galang recounts the sorrows of sixteen surviving Filipino "comfort women" who were among more than one thousand Filipinas kidnapped, tortured, and defiled by the Imperial Japanese Army during their Philippine occupation. Lola's House illuminates with sensitivity, the legacy of wartime horror and the impossible courage it took to survive. Their testimonies are huwes de kutsilyo—justice by knife. By reading this book, you are a witness to both the trauma and resilience endured by the female body. Trigger warning: rape, wartime atrocities.

The Body Papers
by Grace Talusan

Winner of The Restless Books Prize for New Immigrant Writing, The Body Papers is a written and visual catalog of Grace Talusan's life in suburban New England, with family photos, medical records, and government papers to supplement her recollections. As a young brown child in majority white school, Grace grappled with racism, as well as sexual abuse at the hands of her grandfather. In her teenage years, she learns of the turbulence of her family' legal status in the USA. The trauma of her childhood and adolescence take root in her body in the form of cancer, forcing Grace to explore invasive surgeries as a preventative measure. Amid all the suffering, Grace finds a way to persevere and eventually finds love and catharsis in a return to the homeland. Trigger warning: childhood sexual abuse, animal cruelty, life-threatening illness.
Malaya: Essays on Freedom
by Cinelle Barnes
A rich memoir declaring the triumphs of Cinelle Barnes who immigrated to New York illegally and the challenges she encountered along the way. From under-the-table jobs evading authorities, to finding love with a Southern white man; from motherhood without a support system, to the PTSD she faced from her compounded experiences, these essays are about self-preservation and the resolve to overcome adversity against all odds as a brown Filipino woman in a white American world.
Fairest
by Meredith Talusan

Fairest stands apart from the other memoirs by Filipina authors on this reading list as it explores intersectionality and creates dialogue around colorism, privilege, gender, race, and sexuality. Meredith was born as an albino male in the Philippines, being treated like a spectacle most of her childhood, but was given the opportunity to immigrate to the USA as a teen. She immediately is perceived as "white" upon arrival and navigates new waters of acceptance among her American peers while battling with her shifting gender boundaries, transitioning from male to female in her college years. A formidable voice providing refreshing nuance to the immigrant narrative.
Somewhere in the Middle
by Deborah Francisco Douglas
Growing up biracially, Deborah Francisco Douglas wanted to know more about her Filipino heritage. So on the fateful day she was assigned to the Philippines as a Peace Corps Volunteer, she packed up her bags hurriedly to connect with her Filipino side. But what welcomes Douglas in the small mountain town of Baguio City is a humbling lesson on belonging, that community is not an automatic but something earned. A homecoming tale to a home never visited, but always residing within, Douglas reflects on the ordinary ways we arrive to inclusion and inspires those looking to volunteer abroad with her descriptive account on her time overseas.
Trick Mirror: Reflections on Self-Delusion
by Jia Tolentino

Hailed one of 2020's Best Books of The Year by The New York Times Book Review, Jia Tolentino's Trick Mirror is a provocative social commentary running adjacent to a psychiatric evaluation, as Jia explores her own psyche in relation to the climate of the times. Her cerebral prose on pop culture themes such the punitive nature of optimization, the glorification of scammers as an American ideal, and our (de)construction of self on the internet, requires critical analysis from readers without compromising the entertainment factor. Trigger warning: rape.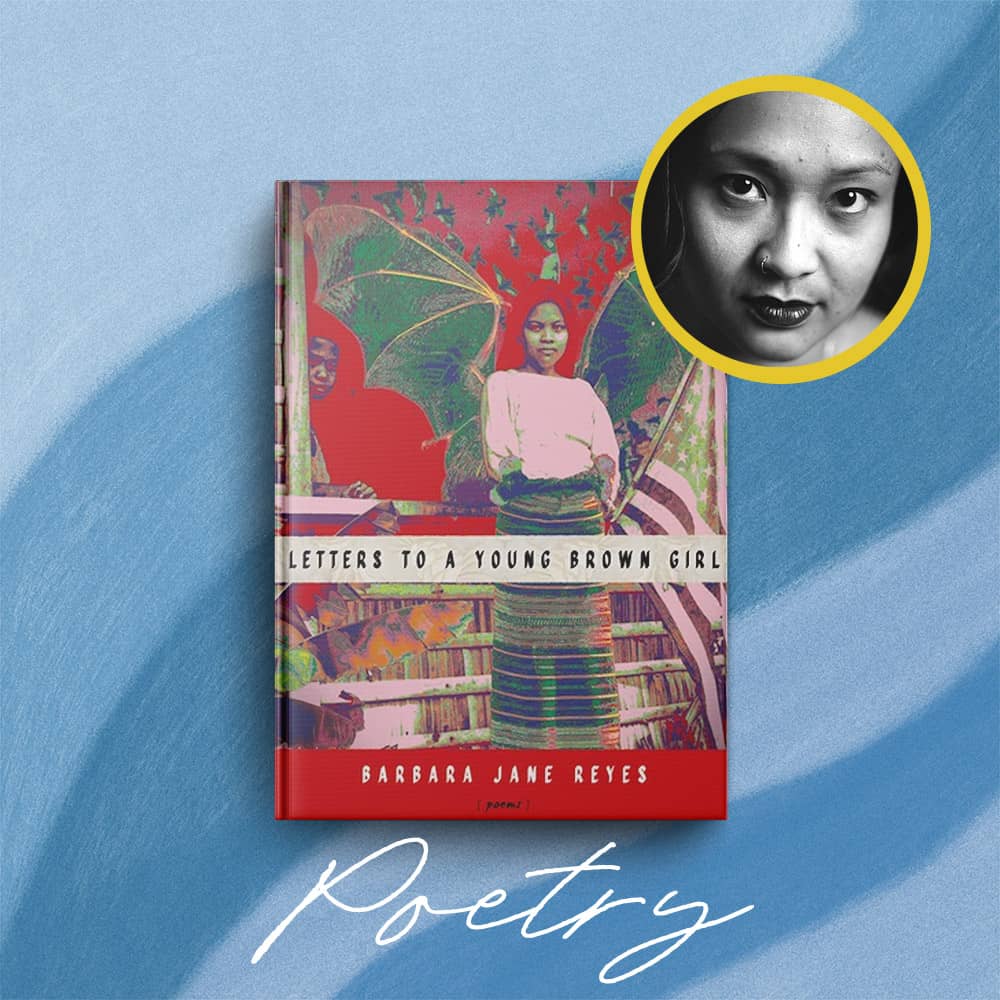 Letters To A Young Brown Girl
by Barbara Jane Reyes
A riveting collection of poems that speak to the anger and difficulty of being a young brown girl, directed towards non-BIPOCs who have contributed to the harmful degradation of brown peoples' worth. Reyes is unshakeable, spilling verses that read like thoughts, capturing the oppression of brown girls with a graceful balance of ferocity and empathy. She is raw and unabashed as she unpacks all her indignation against "othering," but simultaneously, gives necessary affirmations for brown beauty in her reproach of western beauty standards.
---
Join the Filipina Authors Book Club
If you're looking to build community and are seeking accountability in your reading journey as a Filipino/a/x reader or ally, join the Filipina Authors Book Club on Facebook! With over 600 members, monthly discussions, and engaging community threads, this is a safe space for those interested in learning about Filipino culture without a patriarchial POV.
---
DISCLAIMER: Please support local, independent book retailers at this time. We invite you to purchase your books from independent Filipino books retailer, Arkipelago Books, or Bookshop.org, the largest inventory of independent bookstores..

---
More Reading Lists:
🚩 Best Travel Books of Summer 2017
🚩 Best Travel Books of Summer 2016
👉 If you have any other Filipina authors I should know about, I'd love to hear your recommendations in the comments section!
Give me a shout-out on Pinterest pretty please?