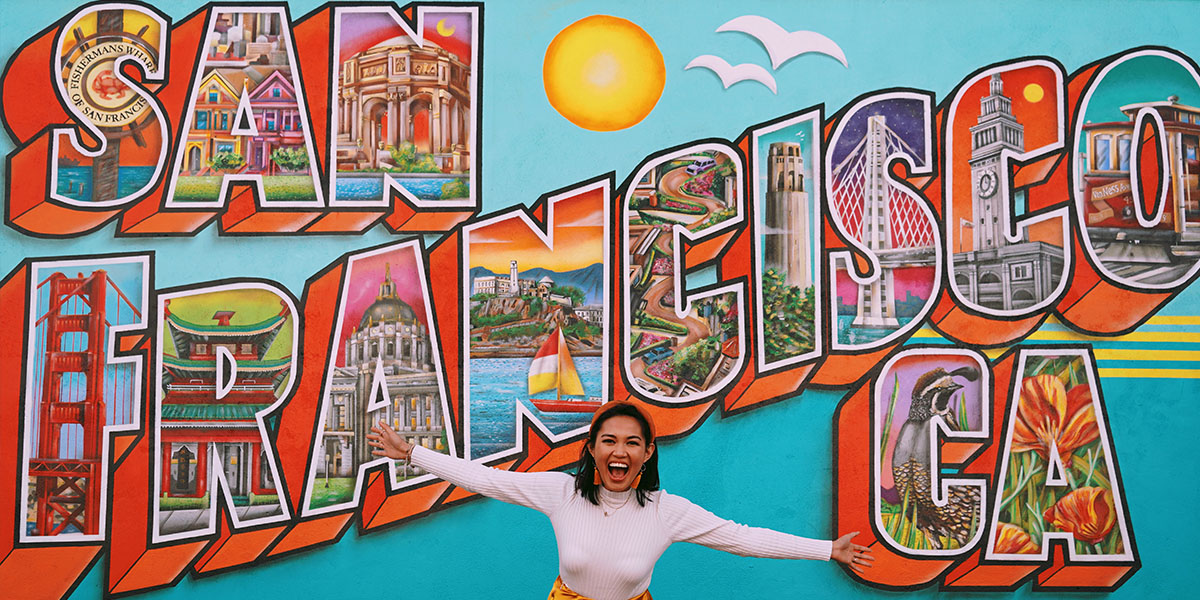 Top Five Things To Do in San Francisco, California
Muted fog, rolling hills, and two beautiful bridges are just a few of the defining features of San Francisco. Here are my favorite things to do in San Francisco.

"You wouldn't think such a place as San Francisco could exist. The wonderful sunlight there, the hills, the great bridges, the Pacific at your shoes."
Dylan Thomas
Boiling down San Francisco's best into a top five list is like asking a parent to pick their favorite child. It's doable, but not a position I really love being in. Sure, there are the tourist darlings like The Painted Ladies, Lombard's Crooked Street, and the picturesque Golden Gate Bridge (which truly shouldn't be missed; see #1). But what I really adore about "The City" or "SF" (local shorthand) can be found in the daily commotion: what San Franciscans enjoy eating, the places where they love to gather. Here are my top five recommendations for a first-time visit; the majority of which are ways to enjoy San Francisco's celebrated beauty. Now onwards to the top five things to do in San Francisco!
Planning a visit? The summer months of June through August are notoriously overcast so much so, that locals refer to the cloudy weather pattern as "June Gloom," "No-Sky July," and "Fogust." Springtime (March and April) and early fall (September and October) are the months with the most sunshine.
Short on time? Here's an itinerary for 48 Hours in San Francisco.

1. Take in the Golden Gate Bridge from all the different angles
There's a reason why the Golden Gate Bridge is the most photographed bridge in the world. Once you spot it, it's hard to resist pulling out your camera to snap that rusted-orange suspension bridge. There are plenty of on-shore photo opportunities but one of best ways to scope the Golden Gate Bridge is from a sunset cruise out on the Bay. For a quick ride, check out the Red, White, and Blue Tours. If you're feeling up to the challenge, you can also walk across the one-mile long bridge!
Most tourists head to Golden Gate Vista Points North and South, but my favorite spots to take photos from are Battery Spencer Overlook on the Marin side of the bridge and Baker's Beach on the San Francisco side.
📍 Battery Spencer Overlook: The bridge almost feels like it's within reach from the Battery. Get directions here.
📍 Baker's Beach: Parking is tough but if you get there early enough, spend a on the beach looking out onto the Golden Gate Bridge in the distance. Get directions here.
Warning:The Golden Gate Bridge vista points are notorious for drive-by car break-ins so make sure you take all valuables out of the car and hide all visible items, including loose change and phone cords. Better safe than sorry!
2. Sunbathe or picnic in Mission Dolores Park
A day in Mission Dolores Park is equivalent to a day at the beach. But swap the the stretches of sand for a a mound of grassy hill. All things remain the same in that, 1. Expect crowds, 2. Bring a blanket or something to sit down on, and 3. Don't forget your sunglasses (just in case the sun decides to make an appearance). Locals gather to sunbathe, unwind, and picnic. There's a pretty spectacular view of the skyline the farther up you go up the hill, a playground area for families, and the park is very pet-friendly so watch out for dogs running amok. This is the perfect spot to lounge, people-watch, and get a feel of what the people of San Francisco are all about.
Where? Dolores St &, 19th St, San Francisco, CA 94114
3. Stand under a majestic redwoods at Muir Woods National Monument
Just a short 30-minute drive north of San Francisco is a cathedral of redwoods that draws over a million visitors annually. This nature preserve is home to some of the oldest trees on the planet. Travel down the wooden boardwalk laid down on the forest floor or hit one of the many hiking trails and ascend past the canopy. You can enjoy the primeval forest from all vantage points thanks to all the great infrastructure for pedestrians. This is also a great place to unplug as there is a designated quiet zone and little to no wifi connection in this area. And for those looking for more intel, join the ranger-led "Tree Talks" that start at the Pinchot Tree.
Where? Muir Woods National Monument, Muir Valley, CA 94941-2696.
Pro-tip: You must reserve a parking spot in advance as there is a daily quota for parking spots and reservations go fast. Reserve tickets here.
4. Eat at one of San Francisco's trending restaurants
San Francisco's food scene is a callout to its immigrant populations, its close proximity to the ocean, and its love affair with New American cuisine. San Francisco also pioneered the Asian Fusion movement. Dimsum restaurants abut homely taquerias. Seafood restaurants tout their daily catch. Cioppino stew, a tomato-based seafood soup, and crusty loaves of sourdough bread are some of San Francisco's proudest creations. With some 3,489 places to eat, the most culinary offerings in a major US city, the selection can be overwhelming. Not to fear: I wrote a full guide to my favorite restaurants in San Francisco. But here's a top five list of San Francisco's must-eats:
📍 Ferry Building: Sample all of San Francisco's favorite eats under the historic roof of a working ferry port.
📍 Swan Oyster Depot: This tiny fish market/casual seafood diner holds 12 high top chairs.Cash only. Expect a line.
📍 Craftsman and Wolves: San Franciscans ironically adore artisanal bread as much as they revile gluten. This patisserie serves up the famous "A Rebel Within" muffin, where asiago parmesan cheese-flavored dough encases a perfectly soft boiled egg.
📍 Tony's Pizza Napoletana: Serving up all styles of pizza with mammoth proportions. Get the classic Margherita pizza with fresh basil, San Marzano tomatoes, and mozzarella cheese.
📍 La Taqueria: The longstanding Taqueria claims to have the best burrito in San Francisco. Order your burritos Dorado-style for a crispy sear.
5. Get a bird's eye view of San Francisco from Twin Peaks
Say hello to Eureka and Noe, the hilly duo known as Twin Peaks! Out of all the lookout points in the city, the view from Twin Peaks gives you the best snapshot of the 7-by-7 grid (i.e., the 7 by 7 miles that make up SF proper). While it might be a tourist favorite, parking never takes too long and there's plenty of view to go around for everyone. The only thing that might spoil your free fun is Karl the Fog, aka the thick blanket of fog that infamously makes guest appearances all over the city. Bring a jacket as it gets very windy up there.
Where? 501 Twin Peaks Blvd, San Francisco, CA 94114
Getting There: Car is the most popular way to get to the summit but you can also hike and walk up the mountain.
Cost: Free
More Tourist Attractions Around San Francisco
Catch a ride on one of the

CABLE CARS.

The lines are notoriously long at the Hyde & Beach and Powell & Market turnarounds but there are usually less people at the California & Drumm stop and you can score an outside seat much quicker.
Catch the sea lions barking or sunbathing at

PIER 39

or dig into a bowl of clam chowder in a hollowed out sourdough bread loaf at FISHERMAN'S WHARF. This is also the place to catch a harbor cruise or locally commandeered speedboat where you can skirt underneath The Golden Gate Bridge.
On your Bay Bridge drive, make a pitstop at

MERSEA RESTAURANT ON TREASURE ISLAND

(699 Avenue of the Palms, San Francisco, CA 94130). This shipping container restaurant has an outdoor succulent-trimmed patio where you can take in the SF skyline.
Take a walk around the palatial grounds of

THE PALACE OF THE FINE ARTS,

one of San Francisco's most visited tourist attractions with a peaceful pond inhabited by swans.
The vibrant district known as

THE CASTRO

is a historic area for the LGBTQIA+ community and a great nightlife spot and very queer-friendly!

HAIGHT-ASHBURY

is largely associated to the counterculture "beatnicks" and hippies movement and today, you can honor that legacy by picking up a record or two at AMOEBA RECORDS (1855 Haight St, San Francisco, CA 94117), the largest independent record store in the world.
The Italian-American stronghold of San Francisco can be found in NORTH BEACH with pizzerias, trattorias, and gelaterias all in row. Take in a 360-degree view of the city at

COIT TOWER

. The world's "most crooked"

LOMBARD STREET

is also located in this neighborhood.

ALCATRAZ ISLAND

, also known as "The Rock", is arguably the most famous prison in the world. This maximum security penitentiary officially closed in 1969 and today, has become a dark tourism
Ranked the "greenest ballpark in the USA,"

ORACLE PARK

(24 Willie Mays Plaza, San Francisco, CA 94107) is the home of the SF Giants and located right on the waterfront. You can kayak in McCovey Cove to see if you witness an infamous "splash hit," i.e., a homerun that lands in McCovey Cove
You could spend a whole day getting lost in all the offerings of GOLDEN GATE PARK a sprawling city park that covers 1017 acres and is home to celebrated attractions like the California Academy of Sciences, the Japanese Tea Garden, DeYoung Museum, and The Conservatory of Flowers. It also hosts the popular music fest, Outside Lands, annually.
Enjoy the largest collection of public murals in the Mission District's

BALMY ALLEY

(50 Balmy St, San Francisco, CA 94110), a block-long collection of politically-charged murals drawn by members of the Chicano community that is constantly being updated.
More California travel guides:
👉 Share your list of top five things to do in San Francisco if you would choose anything different!