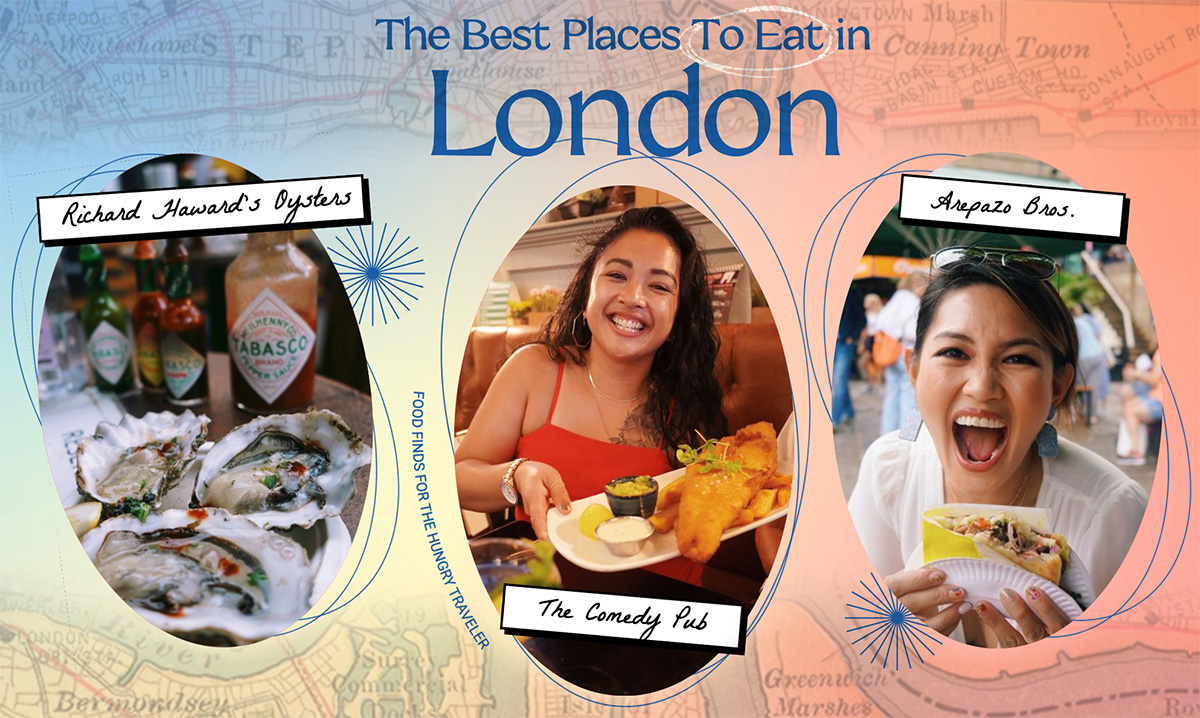 With so many options for dining, here are some of the best places to eat in London curated by a local for a first-time visitor.

Even in the company of first-class sights like Big Ben and Tower Bridge, London's food scene shines. The British capital is a gastronomic destination that excites, delights, and on occasion, intimidates even the most seasoned eaters. Two things to remember when visiting London: you won't be able to eat everything, but hey, at least you have a reason to come back. Thanks to my sister's local insights steering us in the right direction, we discovered the best places to eat in London. The spots featured on this London food guide gives you a satisfying sample of where to eat in London while being considerate of every budget and dietary need. From traditional Sunday roasts, trendy food halls, and iconic British fare, eat your way through London with me!
🗺️ Best Places To Eat in London
Find a map of all the restaurants and markets featured in this roundup at the bottom of the post.

Dishoom Kensington
Dishoom is a celebrated Indian restaurant group with entities all around the UK. But the Kensington location is my sister's favorite (and for good reason)! It's housed in a former bank and styled in memory of the jazz era in Bombay, giving it an art deco look and feel. Inspired by the Irani cafes in Bombay, the massive menu has something for everyone. And the brunch at Dishoom is perfect for big groups, with small plate choices in spades.
Cost: 💲💲💲
Type: Indian
Address: 4 Derry St, London W8 5SE, United Kingdom
What To Order: Bottomless house chai, Okra Fries, their famous House Black Dal, Lamb Biryani, and ask about their specials

Richard Haward's Oysters

Borough Market is THE place to eat in London for first-time visitors. From Malaysian to meat pies, ciders to Spanish, cheese to Czech, the historic marketplace has something for everybody. But you would be foolish to miss out on local specialties, particularly the Mersea oysters harvested by eighth generation fishermen at Richard Haward's Oysters. Briny bivalves paired with a chilled glass of wine are a match made in heaven!
Cost: 💲
Type: Seafood
Address: 35 Stoney St, London SE1 9AA, United Kingdom

BAO London
The BAO brand has a cult following in London thanks to brilliant marketing and inventive takes on classic Taiwanese dishes. If you have the patience to queue, the BAO Soho location is the goal. But the Borough Market location is equally fun, made to emulate a late night grill house. You can even rent out a private karaoke room! Order up using a dimsum-style tick-box menu.
Cost: 💲💲
Type: Taiwanese
Pro-tip: Each BAO location has its own unique menu so you'll be getting different dishes depending on where you are.
Address: 13 Stoney St, London SE1 9AD, United Kingdom
What To Order: The Beefshort Rib Bao was my favorite of the baos and the Bubble Tea is not too sweet. The vegan Maitake Mushroom with Soy Egg is PACKED with umami. The BAO 15 set menu runs on weekdays from 12 – 6:30pm for–you guessed it–15GBP.

Seven Dials Market

One of the best places to eat in London, Seven Dials Market has brought nineteen of the most promising street food vendors in the city all together under one roof. The trendy, multi-level food court has two main dining areas: the Banana Warehouse, a concourse of eateries under a glass-arched ceiling, and Cucumber Alley: a line-up of snackable eats. My picks:
📍Hipster Filipino food at Bong Bong's Manila Kanteen
📍Frothy cups of spicy chai at Chai Guys
📍Airy finger donuts at Longboys
📍Manity (Uzbek dumplings) at Oshpaz Dumplings
📍Decadent pita wraps at Shuk
Cost: 💲💲
Pro-tip: There are DJs that play on The Pink Stage and a bookshop.
Type: Food Hall
Address: 35 Earlham St, London WC2H 9LD, United Kingdom
Camden Market

Camden Market is a bustling outdoor market open seven days a week. In addition to choice shopping, you'll have access to bars, cafes, bakeries, and savory eats. Row after row of food stalls and large crowds can be somewhat overwhelming. But instead of being paralyzed by one too many choices, go at it with an open mind and try as much as your wallet and belly permits. This approach leads to less disappointment and you can make a whole morning or afternoon at it. This is what I ate on my DIY food tour:
📍Shredded Beef Arepas at Arepazo Bros
📍Rendang at Toko Bali
📍Freshly Squeezed Orange Juice at Camden Juice
📍Crispy calamari at Ink Fish Bar
📍Bhangra Burgers at Baba G's
Cost: 💲 to 💲💲
Type: Food Hall
Address: Camden Lock Place, London NW1 8AF

sketch London

The Michelin-ranked sketch London is as much an artistic haven as it is a culinary destination, with miniature dioramas, self-playing pianos, bizarre egg pods in the bathroom (I mean it, go to the bathroom!) Dreamed up by Algerian restaurateur Mourad Mazouz, this whimsical and romantic conceptual space is in a league of its own. They have a luxurious afternoon tea beloved by influencers, but the gallery and cocktail lounge are equally buzz-worthy. Be prepared for a strict "Art Smart" dress code and a costly meal. It is perfect for a date night or an intimate gathering due to the six-person limit on bookings.
Cost: 💲💲💲💲
Type: Fine Dining\Modern European
Address: 9 Conduit St, London W1S 2XG, United Kingdom
What To Order: Onion Rings, Fried Artichokes, Pan-Fried Escargots

Great Court Restaurant
Experience the two-hundred-year-old British tradition of afternoon tea in the atmospheric halls of The British Museum. Along with your selection of cream tea (tea accompanied by scones and clotted cream), you'll also get three tiers of delicate finger sandwiches as well as quaint tarts, choux pastry, and sweet sponges. At 24 GBP per person, this is a steal considering the stately surroundings.
Cost: 💲
Type: Afternoon Tea
Pro-Tip: To make it extra special, upgrade to a prosecco afternoon tea for 30 GBP.
Address: Great Russell St, London WC1B 3DG, United Kingdom
Fortnum & Mason
Fortnum & Mason is a high-end department store catering to epicureans. This is a great place to pick up gourmet souvenirs but did you know that on top of fancy food shopping hauls, you can indulge in one of London's best afternoon tea experiences? Choose from a selection of 150 Fortnum teas to sip with a dainty cake in hand in the late Queen Elizabeth II's Diamond Jubilee Tea Salon. From rose petal jelly, checkered Battenburg slices, and cream-filled Victoria sponge cakes, you'll be supping like royalty.
Cost: 💲💲💲
Type: Afternoon Tea
Address: 181 Piccadilly, St. James's, London W1A 1ER, United Kingdom

Homeslice Pizza
Hidden in the colorful Neal's Yard is a pizza paradise. Formerly a food stall, Homeslice Pizza became a permanent institution in this alleyway thanks to the popularity of its innovative pizzas adorned with in-season ingredients. But if pizzas topped with lamb or wagyu beef feel too complicated, the classics are on par, if not better. And best of all, you can order either a full-sized 20" pizza or by the slice (note: this isn't available for all flavors).
Cost: 💲
Type: Pizza
Address: 13 Neal's Yard, London WC2H 9DP, United Kingdom
What To Order: Call me a purist, but you cannot go wrong with the OG Margherita (tomato sauce, mozzarella, basil). It was so good, I'm still thinking about it.

The Nelson's Pub
If your London trip falls on a Sunday, make your way to Columbia Road Flower Market for fresh florals and pleasurable people watching. A two-minute walk from the flower market is The Nelson's, a popular pick on the Sunday Roast circuit. Heads up: this gay-friendly pub is decorated with childish drawings of genitalia. If you're not a prude and don't mind a long wait (especially with bigger parties), you'll be spoiled with a heaping plate of roast meat, grilled vegetables, and Yorkshire pudding swimming in dark gravy. Brighten the meat with mint sauce, mustard, and/or horseradish. Reservations are highly recommended.
Cost: 💲💲
Type: British
Pro-Tip: On the menu, look for the "Pimp Your Roast" section. You can double the gravy or ask for another Yorkshire Pudding.
Address: 32 Horatio St, Bethnal Green, London E2 7SB, United Kingdom

The Comedy Pub
Opinions surrounding British cuisine's bland reputation are misguided. In order to properly educate yourself on British flavors, head to The Comedy Pub in London's glitzy West End, where laughs are served beside pub grub. With shows every Thursday, Friday & Saturday night, this is the best place to eat British classics before catching a live stand-up comedy performance.
Cost: 💲💲
Type: British
Address: 7 Oxendon St, London SW1Y 4EE, United Kingdom
What To Order: The Sticky Toffee Pudding stole the show. Definitely shareable, but you won't want to share. The Bangers and Mash plate (mashed potatoes, gravy, and sausages) were simply delectable. Their Fish and Chips portion is more than generous. Wash it down with a pint of draught beer.
Mamasons Dirty Ice Cream
Memories of my childhood came flooding back to me the moment I stepped inside Mamasons, London's first filipino ice cream parlor. "Dirty Ice Cream" is a playful nickname for ice cream sold on the streets of the Philippines in metal carts. And no, the ice cream is not dirty at all. With calamansi, a sweet and tart citrus from the Philippines, malty milo flavored with Milo drinking chocolate and queso cheese, Mamasons captures Filipino culture in every scoop.
Cost: 💲
Type: Filipino/Ice Cream
Address: 32 Newport Court, Chinatown London WC2H 7PQ
What To Order: The Ube flavor is nutty and creamy, black buko (blackened coconut) in bilog (a sweet bun that is used as a vessel for scoops in the Philippines), and Halo-Halo, a shaved ice dessert made with condensed milk, beans, and leche flan.
---
Map of all the Best Places To Eat in London
Do you have a spot to recommend in London? Let me know if there's a restaurant I should check out to add to my best places to eat in London guide!
Give me a shout-out on Pinterest pretty please?