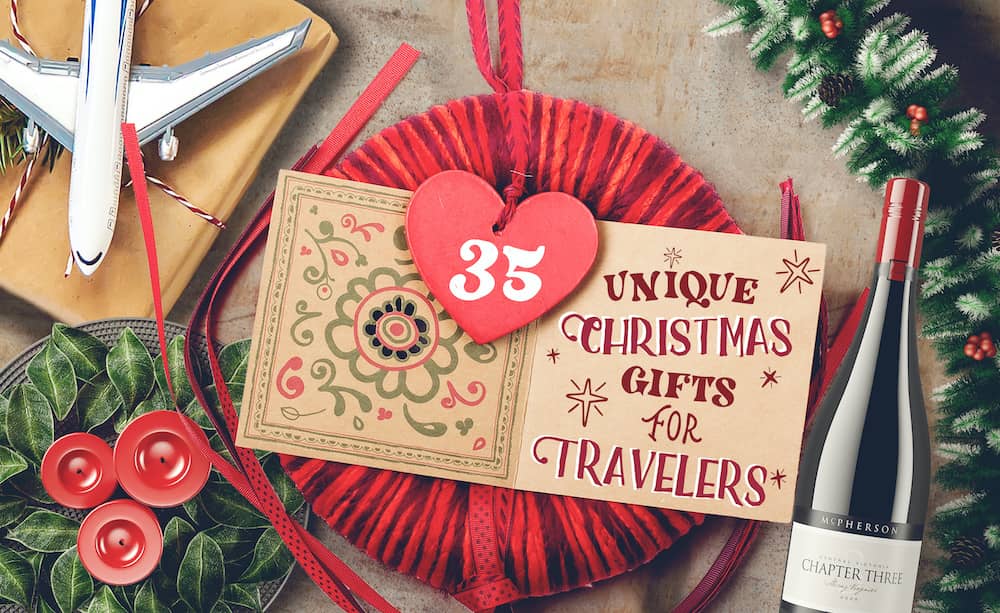 No travel? No problem! These unique Christmas gifts for travelers are just what you need to help make spirits feel bright.
Grounded planes, empty airports, sheltering-in-place. The absence of travel this year has been excruciating to say the least. But as you begin your holiday shopping, fill the void of adventures-not-yet-taken with 35 handpicked Christmas gifts to commemorate past trips and inspire dreams of travels to come. These unique Christmas gifts for travelers also support small businesses around the world… all from the comfort and safety of your own home. And when the time comes where we can safely begin to take flight again, you and/or your loved ones will be ready to go with fancy, new travel gear and wardrobe updates.
⭐

 = Look for the star emoji next to my favorite gifts!
SHOP BY TYPE
《 HOME DECOR GIFTS 》
3D Multilayered Wooden World Wall Map with Pushpins by Enjoy The Wood ($$$$)
Dress up a barren wall with this 3D multilayered wooden world wall map, an innovative way to chart your travels. Each birch piece is labeled with country names and famous cities and you can also order add-ons including country flag pushpins and plane pushpins.
Buy Now: On sale for $135.60 for Medium Basic with Flag Pushpins Add-ons, etsy.com
⭐

Signature Travel Print by Still Novel ($$$)
Before the moments fade into the recesses of your memory, preserve your glory days on the road with these highly personalized travel prints. Every print is stamped with intimate details of the specific place and time, providing an accurate snapshot of your favorite trips.
Buy Now: Starting at $60 USD, stillnovel.com

Lisbon Print Set of 2 by WallSaintsStudio ($$$)
Longing for Lisbon? Add a splash of color to any boring room with this split frame image of the pastel personalities that decorate Lisbon's many hilltops.
Buy Now: $67.30 USD, etsy.com
《 TECH GIFTS 》
⭐
Instax Mini LiPlay by Fujifilm ($$$$)

My favorite purchase of 2020! This hybrid instant camera and bluetooth printer lets you review photos before printing them, and also comes with audio printing and preset frames to add more of a flourish to your polaroids. Using bluetooth technology, you can select photos on your phone and print them right off this camera. This comes in four colors: Elegant Black, Blush Gold, Stone White, and Dark Gray. Watch my video reel of the Instax Mini LiPlay in action here.

Buy Now: $159 USD, amazon.com

⭐

The Jumper Photo Backpack by Brēvite ($$$)
For the person with all the gadgets in your life —that's me in my life— invest in the cult-classic everyday backpack photographers are raving about. The removable padded dividers makes it easy for you to organize as needed and you'll be surprised at how light this backpack is despite the many items it's neatly hiding. Comes in ten colors.
Buy Now: On sale for $99 USD (originally $129 USD), brevite.com

SHOW camera pink & Ilford HP5 by Dubble Film ($$$)
Film cameras are making a comeback. Welcome the return of analog with this candy-colored film camera that shoots both black and white and color film. Treat yourself to the jelly-gradient film to match your pink camera. The ilford is ideal for low light and action shots.
Buy Now: $76.13 USD, dubblefilm.com
《 BOOK GIFTS 》

⭐
Accidentally Wes Anderson by Wally Koval ($$)
The most buzzed about coffee book this year! Discover the eccentric and whimsical aesthetics of celebrated director Wes Anderson in the most unexpectedly expected corners of the world. My friend Tara of Silly Little Kiwi wrote a full review of the book here.
Buy Now: $32.20 USD, bookshop.org
Everyday Ubuntu: Living Better Together, the African Way by Mungi Ngomane ($)
"I am because we are." 2020 has taught us just how real the "Ubuntu" lifestyle is. This definitive cultural guide will equip you with all the ways to bring this South African philosophy of interconnected living into conscious being with practical applications and mindful exercises.
Buy Now: On sale for $18.39 USD, bookshop.org

VÁMONOS Series by Lil' Libros ($)
With homeschooling being added to the growing list of parental responsibilities, why not add Beginners Spanish to your early education curriculum? The books in the VAMANOS series introduces curious children to fascinating cities in Latin America in both English AND Spanish. There's always a soft spot in my heart for Oaxaca.
Buy Now: $9.99 USD each, lilibros.com
《 BEAUTY GIFTS 》

⭐

Makeup Brush and Compact by Alleyoop ($$)

My second favorite purchase of the year. Travel lighter with these routine simplifying essentials from women-owned company Alleyoop. Their best-selling 'Stack the Odds' swivel stacked compact comes with a cream-based highlight, blush, and contour in three skintone-inclusive colorways. The 4-in-1 Multitasker Brush houses a dual-head sponge, feather brush, and eye shadow brushes on each end.
Buy Now: $34 for the Stack the Odds palette and $28 for the 4-in-1 Multitasker Brush, alleyoop.com

Pomegranate Earrings by Mother Sierra ($$)

Sport the classic holiday colors with these dangling earrings. The fancy beadwork, known as Huichol, are made sustainably by the Wixáritari women from the comfort of their homes, keeping production small, business fair, and all money goes right back into the Wixáritari community.
Buy Now: $35 USD, mothersierra.com

Le Sept Merveilles by Bastide ($$)
A fragrant take on the seven wonders of the world. The world of Bastide transports you to the blue skies and terracotta homes of Aix-en-Provence. Once you discover your scent of choice, you can use their $30 off coupon on a full-sized bottle of parfum.
Buy Now: $30 USD, bastide.com
Shampoo by Dae ($)
Created by The Barefoot Blonde, Dae Haircare pays homage to Amber Fillerup Clark's childhood in Arizona. Lather up with the scents of desert botanicals like aloe and hibiscus flower filling up your shower. The orange hues of her packaging instantly transport you to the sunset-hued sky. The company also makes public donations to Charity: Water to provide clean drinking water to communities in need.
Buy Now: $25 USD, daehair.com
《 FOODIE GIFTS 》
⭐

Southeast Asian Omsom Sampler by OMSOM ($$)

Bring home savory Southeast street food with these easy-to-use seasoning sachets. There are 2 samplers of each dish – Vietnamese Lemongrass BBQ, Filipino Sisig, and Thai Larb – and each sampler make 2-3 dishes. For best street food reenactment, bring your own tiny stool.
Buy Now: $29 USD, omsom.com
⭐

National Parks Variety Pack by Eliqs ($$)
Send a cheers to your 2020 summer U.S. National Parks tour with a craft beer 12-pack saluting America's finest natural bastions. Each design features Blonde Ale, Amber Ale, and IPAs. NOTE: Currently Eliqs only delivers to NY and CA.
Buy Now: $35.59 USD, eliqs.com

⭐

Pacific Fog Box ($$)
There are only two types of fog I like – City Fog and the misty, pacific ocean fog that rolls in around the shores of California, the place I've called home the last two years. This lavender treat box is sure to delight with snacks and goodies hailing from San Francisco, Santa Barbara, and Sebastopol. With love, from California.
Buy Now: $45 USD, californiacraftedbox.com
Premium Bubble Tea Kit by Bar Pa Tea ($$)

Daily bubble tea habits die hard so instead of buying a cup, why not make your own bubble tea at home? This kit comes with 2 servings of Premium Black Tea and Roasted Ooolong Tea, premium tapioca pearls, and reusable straws. Fun glassware not included.
Buy Now: $35 USD, barpatea.com
《 GIFTS THAT GIVE BACK 》
⭐

Vietnam Coloring Book by Miles of Smiles ($)
Shouting-out a fellow travel blogger and design role model, Kelsey of Miles of Smiles, for drawing up this stunning tribute to Vietnam. 30 whimsical pages depicting Vietnam's ornate buildings and hilly landscapes are begging to be colored in. 10% of the proceeds from each book will be donated to the Blue Dragon Children's Foundation rescuing children in crisis in Central Vietnam.

Buy Now: On sale for $24 USD (originally $30 USD), etsy.com
⭐
Lifeproof Pullover Navy by Someone Somewhere ($$$)
The wardrobe of a traveler demands versatility and minimalism. With this pullover, you get a sustainably made, spill-proof, and odor-proof pullover that you can roll up compactly into a burrito, made by someone special, somewhere. Someone Somewhere employes artisans from the five poorest regions in Mexico, 98% of them being women, to create unique Christmas gifts for travelers. Just look at the tag to be reminded of that someone special every day.
Buy Now: $59 USD, someonesomewhere.com
Mini Kane Travel Backpack by State Bags ($$$)
Uplift the little wanderer in your life with this high-flying backpack. Perfect for family travel and you can easily slip the bag over the handle of any roller bag with its hidden luggage sleeve. Every bag purchased supports American children and families in need and the interior liner is made with recycled water bottles.
Buy Now: $65 USD, statebags.com
⭐

Wing on Wo & Co. Behind the Counter Pillow by Made in Chinatown ($$)

The Made in Chinatown initiative was born out of a desire to help struggling Chinatown businesses combat the financial and racial consequences of COVID-19 in the USA. Asian-American designers from around the USA have lent their services to NY Chinatown business pro-bono to support suffering small businesses, while also demonstrating the cultural importance of Chinatown establishments.

Buy Now: $35 USD, madeinchinatownny.com

⭐
Handwoven Facemasks by Ifugao Nation ($)
I had to add one mask to this Christmas gift list especially since it is the accessory that keeps on gifting. PSA, wear the mask. Save lives. These handwoven masks were made by the Kiyyangan Weavers Association who are indigenous Ifugao tribespeople of the Philippines, using the consultation of tribal elders. Every purhcase supports the Indigenous Peoples Education Center, a movement aiming to preserve Ifugao cultural traditions through educating youth.
Buy Now: $20 CAD (~$15 USD), cambioandco.com
⭐
Palestine Series Hoodies by Dār Collective ($$)
For me, graphic design has helped me tell stories of places I love and I am so happy to have found a company doing the same. The Palestine Series is brought to you by third-culture creatives who are reclaiming and defining their identities through fashion. The Palestine Series supports UNRWA, a social services program for displaced Palestinian refugees. Don't forget to check out the Pakistan series as well!
Buy Now: $38 USD, darcollective.com
《 CLOTHES & APPAREL GIFTS 》
⭐

See You Later A**holes by Steven Rhodes Art ($)
This is THE shirt we will all rock the minute we can get back to regularly scheduled flying. Comes in various Men's and Women's fits and in different colorways.
Buy Now: On sale for $12 USD (originally $20 USD), threadless.com
Ibi Low Sun Yellow Knit Sneakers by Cariuma ($$$)
Low impact and high-end comfort has made this Rio de Janiero sneaker a new traveling stapling. For every sustainable pair of Cariumas purchased, two trees are planted. The only mark you should leave while traveling should be your (stylish) footprint. Comes in 12 colors, both men and women's sizes available.
Buy Now: $98 USD free shipping with code HOLIDAYGIFT and 60-day returns, cariuma.com
⭐
At Home in The World T-Shirts by Tsh Oxenreider ($)
Find your favorite translations of "At Home in The World" in any color you want. Having spent the majority of the year indoors, I've come to realize I feel most at home out there in the world. If this phrase looks familiar, it's because it's the merch line of a book with the same name featured on last year's Best Travel Books of 2019 post.
Buy Now: On sale for $14 USD (originally $20 USD), teepublic.com

Mood-Boosting Colored Sunglasses by Rainbow OPTX ($)
Life is better in color. Time to trade in your drab black and brown shades for rose-colored glasses to live that life in color in real-time! And easily beat those winter blues with the yellow and orange sunnies.
Buy Now: Translucent Yellow Sunglasses, rainbowoptx.com
Agavia Collection 44mm by Agavus ($$$)
Celebrate the skill of Mexican artisans with these sophisticated and timeless wooden watches. Each handcrafted piece is crafted using local wood and comes in a free-to-customize teak case and box.
Buy Now: $85 USD, agavus.com
Everywhere in Between Waxed 5-Panel Hat by Deso Supply ($$)
Keep the sun off your face but keep it stylish with this Los Angeles Creation. With a leather strap, embroidered patch, and a unique weather-resistant finish, this cap only gets better with age. Apply beeswax for maintenance.
Buy Now: $36 USD, desosupply.com

THE SUSTAINABLE DIY Women Classic Espadrilles Kit by Tipu and Tapu ($$)

One of the more unique Christmas gifts on this gift guide is this custom espadrille kit. The kit comes with the classic espadrille soles and industrial thread. All that's missing is printed fabric that you can easily source from a small business on Etsy. Best of all, this project will be ready to break into by springtime so get to sewing!
Buy Now: $35 USD, tipuandtapu.com
《 LIFESTYLE GIFTS 》
⭐
VSSL Flask by VSSL Gear ($$$)

Meet your new drinking buddy! Inspired by the founder's upbringing in the wilds of Northern Canada, the VSSL Flask is the only thing you need for good times around the camp fire. It holds 9 fluid ounces in its sleek aluminum body, which also hides collapsible shot glasses, bottle opener, flash light, and compass.
Buy Now: $95 USD, vsslgear.com
La Buena Vida 1000-pcs Puzzle by Hardie Grant ($)

Piece together a perfect beach day living "La Buena Vida" (the good life) with this 1000-peace puzzle by Spanish artist Ana San José Cortajarena. This 20×27″ puzzle doubles as framable artwork to inspire your next getaway.
Buy Now:$19.99 USD, therapystores.com

Organic Sateen Travel Sleep Set by Coyuchi ($$)
With new regulations on overnight stays at hotels or shared rental homes, give the gift of worry-free sleep with this delightful travel sleep set. The 300-thread-count organic cotton sateen is ultra luxurious and is fair-trade certified. Comes in undyed cotton, blue, and gray.
Buy Now: $34 USD, coyuchi.com

Thank You, Have a Nice Day in Khmer Tote Bag by Etaing Creative ($)
The statement bag for anyone who has helped you get through this year. Also, you'd be supporting an BIPOC, immigrant, and female-owned small business. You're welcome.
Buy Now: $22 USD for heavy-weight tote bag, etsy.com
Jet Set Passport Holder by Izola ($$)
Our passports might not be getting their usual mileage so keep them safe with this cheerful, heavy duty canvas cover.
Buy Now: $26 USD, izola.com
Koinobori Laundry Bag by DOIY Design ($)

Every time we travel, my husband asks to borrow my laundry bag so this year, I'm gifting my husband his own laundry bag inspired by a popular Japanese motif called the Koinobori. The laundry bag lays flat in any sized bag, can hang from any bathroom hook, and you can empty the fish right in your washing machine. Comes in red or blue.
Buy Now: $15 USD, doiydesign.com
Check out Unique Christmas Gifts for Travelers from previous holidays:
📍 2019 Holiday Gifts for Travelers
📍 2018 Holiday Gifts for Travelers
📍 2017 Holiday Gifts for Travelers
📍 2016 Holiday Gifts for Travelers
Did you find any 2020 Christmas gifts? Let me know in the comments what gift you'd like to see under your Christmas tree!
Give me a shout-out on Pinterest pretty please?